Saturday, November 7, 2009
POWER PLAY LIFTS VERMONT PAST BOSTON COLLEGE, 5-1
Catamounts tally four power-play goals in the victory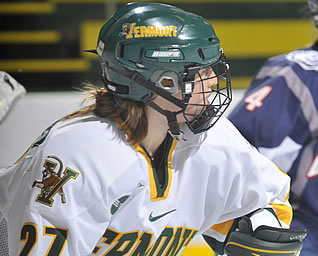 Erin Barley-Maloney had two assists for Vermont
CHESTNUT HILL, Mass. - The University of Vermont used three power-play goals in the second period - and four power-play goals in the game - to defeat Boston College 5-1 in women's hockey action on Saturday afternoon. The win gives the Catamounts their first win in Hockey East for the 2009-10 season.
Freshman Emily Walsh (Suffield, Conn.) scored the first of her two goals in the game four minutes into the second period to give UVM a 1-0 lead. Fellow freshman Maggie Walsh (Bloomfield, Conn.) recorded her third assist on the season during the play.
The Walsh's connected again for Emily Walsh's second goal of the game six minutes into the third period.
Sophomore Kailey Nash (Middletown, R.I.) scored her team-leading sixth goal of the season at the 11:28 mark in the second period off a Chelsea Furlani (Colchester, Vt.) assist. Nash beat Boston College goalie Corinne Boyles for her fifth power-play goal of the season.
Furlani was able to extend the lead to 3-0 with less than two and a half minutes remaining in the second period when she used a Nash pass to find the back of the net. Freshman Erin Wente (Scottsdale, Ariz.) notched her first career goal eight minutes into the third period.
A late tally by BC sophomore Mary Restuccia was not enough for the Eagles and the two teams settled for a weekend split in the series.
For the fourth consecutive game the Catamounts didn't allow a power-play goal. They have killed 20 consecutive power play opportunities. The Catamounts were 4-for-11 on power plays in Saturday's win.
The win improves UVM to 5-5-0 overall and 1-3-0 in Hockey East, while the Eagles drop to 3-3-4 overall and 2-2-0 in Hockey East action.
Vermont will stay in Boston to battle Hockey East foe Boston U on Wednesday, November 11 at 7 p.m. The Eagles will travel to Connecticut on Saturday, Nov. 14 to take on the Huskies at 1:00 p.m.