BOSTON COLLEGE SHUTS OUT VERMONT, 3-0
Allie Thunstrom posted a goal and two assists for the Eagles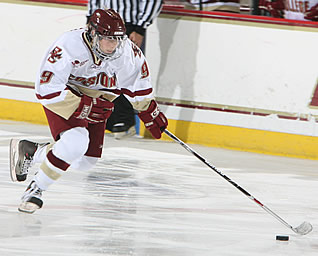 Allie Thunstrom had a goal and two assists for BC
CHESTNUT HILL, Mass. - The Boston College women's ice hockey team kept its momentum going from the victory against Boston University earlier this week to grab another two points in the standings, with a 3-0 win over Vermont at Kelley Rink in Chestnut Hill, Mass.
The Eagles are now 3-2-4 on the year while Vermont falls to 4-5-0.
The two teams looked fairly matched early in the contest, as both goalies put forth strong play for their respective teams. BC would break through the Catamount's defense at the end of the first frame, as senior Allie Thunstrom sped off on a breakaway and tucked the puck between the legs of the Vermont keeper for the first goal of the game.
Neither team would be able to add to the scoresheet in the second period, but the Eagles wasted no time once the opening horn sounded for the third frame. The BC line of freshman Ashley Motherwell, sophomore Mary Restuccia and Thunstrom showed off some great communication that finished with Motherwell whacking home a rebound in front of the net for the Eagles' second goal.
Freshman defenseman Blake Bolden added one more score for BC in the middle of the third period, with Thunstrom earning her third point of the game on an assist.
Sophomore goaltender Kiera Kingston kept the Eagles defense strong for the entire evening as she turned aside all 26 shots that she faced in the game.
The Eagles will remain at home to host Vermont tomorrow at 2:00 p.m.