Tuesday, December 8, 2009
NEW HAMPSHIRE SHUTS OUT BOSTON COLLEGE, 4-0
Sarah Cuthbert posts goal and assist and Kayley Herman posts 21 saves for Wildcats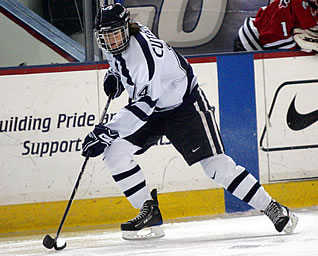 Sarah Cuthbert had a goal and an assist for the Wildcats
CHESTNUT HILL, Mass. - The Boston College women's ice hockey team lost to #4 New Hampshire, 4-0 on Tuesday evening at Kelley Rink in Chestnut Hill, Mass.
The Eagles dropped to 5-7-6 on the year while the Wildcats improved to 11-2-4.
The two teams battled hard during the opening period with neither team being able to take an edge in the score, despite UNH peppering the Eagles' net early and often. The Wildcats struck first midway through the period, when a Sarah Cuthbert shot beat BC goalie Kiera Kingston high on her glove side for the first tally of the game.
The Eagles would pick up the pace and battle back against UNH in the second period, blasting quick shots on goal very early in the period. However, the offense was not enough for BC on the evening and New Hampshire would score another goal four minutes into the period and add two more in the third to take the game, 4-0.
Sophomore goalie Kiera Kingston stopped 27 shots for the Eagles on the day as the Wildcats managed to outshoot the Eagles 31-21 during the match.
The Eagles will host Providence College this Friday, December 11 at 7:00 p.m. for their final game until after the holiday break.