Thursday, January 14, 2010
BOSTON COLLEGE RALLIES TO TIE ST. LAWRENCE, 3-3
Mary Restuccia ties game in final minute for Eagles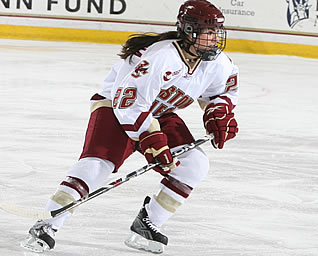 Mary Restuccia scored the game-tying goal for the Eagles
CHESTNUT HILL, Mass. - The Boston College women's hockey team skated to an exciting 3-3 tie against St. Lawrence on Thursday night at Kelley Rink, after scoring two late goals to draw even with the Saints.
The Eagles are now 5-8-9 on the season while the Saints move to 9-7-6.
Boston College opened the scoring midway through the first period on senior Allie Thunstrom's twelfth goal of the season, with an assist from freshman Blake Bolden. The Saints rebounded with less than two minutes to play in the first to even the score at one all.
Despite the even play of the second period, the Saints were still the ones to add to the scoresheet, by knocking home their second tally at 10:40 of the second frame. St. Lawrence would add another at 5:26 of the third period to make the score 3-1.
The Eagles kept battling and adding pressure to the St. Lawrence netminder. BC pulled to within one on Caitlin Walsh's fifth goal of the season at 13:18 of the third period. The home team made the comeback complete with less than a minute to play in regulation, as sophomore Mary Restuccia bounced in a shot from low in the attacking zone that deflected past the Saints' keeper and into the net.
The overtime period would prove to be scoreless and the game would finish at 3-3.
Freshman Corinne Boyles saved 32 shots on the day as the Saints outshot the Eagles 35-22.
Boston College's first goal was Thunstrom's 125 career point as an Eagle and moves her into a tie for fifth place with Laura Traynham '97 on BC's all-time scoring list.
The Eagles will host St. Lawrence again tomorrow at 2:00 p.m. in the final meeting of the series between the two teams.