BOSTON COLLEGE TIES QUINNIPIAC, 1-1
Allie Thunstrom ties game for Eagles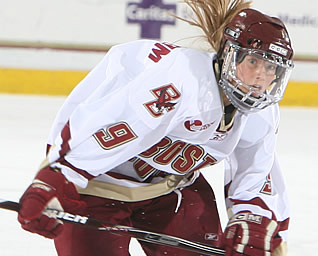 Allie Thunstrom had a goal for the Eagles
CHESTNUT HILL, Mass. - The Boston College women's ice hockey team grabbed a late 1-1 tie against Quinnipiac on Friday, October 16 in Chestnut Hill.
The Eagles are now 1-2-3 on the year while Quinnipiac moves to 1-1-1.
The Bobcats were able to find the net early in the first period off a goal from Brittany Lyons, but that is where the scoring would halt for the next few periods.
As the game drew to a close, Boston College knew that it had to get something started quickly before it was too late. Eventually, the Eagles grabbed a five on three power play and made their best effort to tie the game.
With time running out on the advantage, sophomore Danielle Welch fed freshman Blake Bolden for a blasted slap shot from the point. Senior Allie Thunstrom whacked the puck from the ricochet off the boards and put it past Quinnipiac keeper, Victoria Vigilanti for the first time all night.
Freshman goaltender Corrine Boyles stopped 21 of 22 shots on goal during the evening and her teammates were able to outshoot the Bobcats 30-22 during the game.
The Eagles will skate again at Kelley Rink on Sunday, October 18, when they will face Maine at 2:00 p.m.