PROVIDENCE CONTINUES TO ROLL WITH 6-3 WIN AT BOSTON COLLEGE
Four different Friars notch two-point games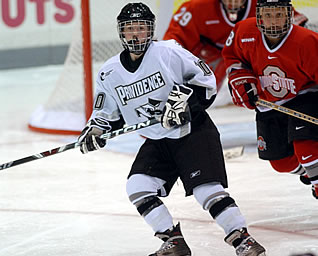 Ashley Cottrell had a goal and an assist for PC
CHESTNUT HILL, Mass. - The Boston College women's hockey team lost to #9 Providence College, 6-3 on Sunday afternoon at Kelley Rink in Chestnut Hill, Mass.
The Eagles drop to 5-12-9 on the season while the Friars improve to 12-7-8.
Boston College had a difficult time finding its momentum in the first two periods as the Eagles were outshot 18-8 prior to the start of the third period. The Friars were able to put three goals on the board in those two periods and the Eagles went into the third trailing 3-0.
The third period provided an increased amount of action for both teams. Freshman Blake Bolden gave the Eagles some life while on the power-play, blasting a slap shot into the top corner of the net to make the score 3-1 at the 07:21 mark. Providence would respond with a goal of its own before senior Allie Thunstrom recorded her third goal of the week to make the score 4-2.
The Friars added two more goals only 18-seconds apart before sophomore Danielle Welch grabbed the Eagles' third power-play goal of the game to make the final score 6-3.
Freshman goalie Corinne Boyles made 19 saves on the day as the Eagles outshot the Friars 26-25. 18 of BC's shots came in the third period; ten more than in the previous two combined.
The Eagles will next travel to play Dartmouth on Wednesday, January 27 at 7:00 p.m.