Friday, December 11, 2009
BOSTON COLLEGE TAKES SHOOTOUT WIN OVER PROVIDENCE
Teams skate to 2-2 tie; BC's Allie Thunstrom scores lone goal in shootout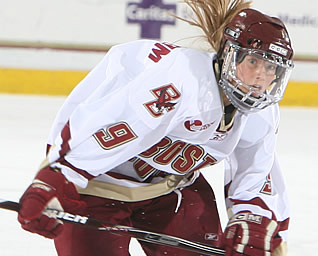 Allie Thunstrom had the only goal in the shootout
CHESTNUT HILL, Mass. - The Boston College women's ice hockey team tied Providence College 2-2 on Friday night in Chestnut Hill before earning another point in the Hockey East Standings with a shootout victory.
The Eagles and Friars both move to 5-7-7 on the season.
BC knew it would be a tough task to come back after the difficult loss against New Hampshire earlier in the week, but took the ice with confidence nonetheless. The Friars were unfazed by the Eagles' early pressure and managed to tally two goals within a span of 33 seconds, midway through the opening frame before the Eagles called a timeout to regroup.
Boston College bounced back after the sudden deficit to hold PC scoreless in the second period. The third period was all BC as the Eagles opened the gate and cut the lead in half on a goal by sophomore forward, Mary Restuccia only 37 seconds into the final period.
The true challenge came a few minutes later in the form of a 5-3 advantage for Providence that would give the Friars a power-play for 1:32. Seniors Allie Thunstrom, Shannon Webster and Tracy Johnson took the ice to and managed to hold PC scoreless until the two teams were back to even strength.
Thunstrom would keep her hot streak rolling as she was able to tip home the tying goal halfway through the third period to set the score at 2-2. She would also be the only shooter to score in the shootout, thus giving BC a 2-2 tie and a bonus point in the league standings.
Freshman goalie Corinne Boyles stopped 21 of the Friars' shots on the evening as BC outshot Providence, 27-23.
The Eagles will return to the ice on Saturday, January 9, when they will take on Yale at 2:00 p.m. in Chestnut Hill, Mass.