Tuesday, October 13, 2009
BERMAN STRIKES LATE TO LIFT NORTHEASTERN OVER BOSTON COLLEGE, 3-2
Senior Lindsay Berman scores game-winner with 23 seconds remaining in third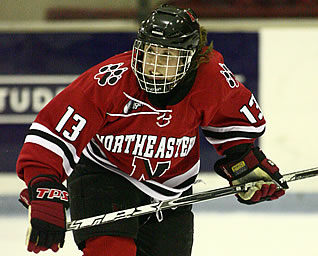 Lindsay Berman scored the game-winner for the Huskies
CHESTNUT HILL, Mass. - The Boston College women's ice hockey team came up just short on Tuesday night, losing to Northeastern, 3-2 at Kelley Rink in Chestnut Hill.
The Eagles are now 1-2-2 on the year while Northeastern moves to 3-0-1-1.
After a Lori Antflick goal gave Northeastern the lead in the first period, the Eagles were able to find the back of the net when freshman Ashley Motherwell fed sophomore Mary Restuccia to tie the game at one.
Northeastern followed Restuccia's tally with one of its own, only minutes after the Eagles had knotted the score. The game would remain 2-1 until early in the third, when senior Allie Thunstrom put another one past the Huskies' keeper to bring the Eagles back level with Northeastern.
The game looked to be heading into overtime late in the contest but Northeastern managed to add one final score with less than thirty seconds left in the third period to grab the victory.
Motherwell, Restuccia, Thunstrom and sophomore Allison Szlosek all recorded points for the Eagles on the night, while freshman goaltender Corinne Boyles managed to stop 43 of 46 shots.
The Eagles will return to Chestnut Hill on Friday night, where they will match-up against Quinnipiac at 7:00 p.m.