WELCH LEADS BOSTON COLLEGE PAST NORTHEASTERN IN OVERTIME, 3-2
Danielle Welch scores twice - including game-winner - for Eagles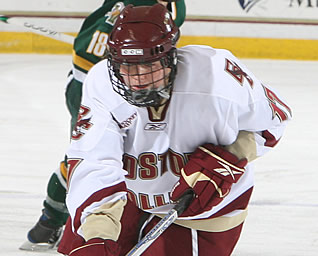 Danielle Welch scored the game-winner for the Eagles
CHESTNUT HILL, Mass. - The Boston College women's ice hockey team grabbed a 3-2 win against cross-town rival Northeastern on Friday night in front of 250 fans at Kelley Rink.
The Eagles improve to 5-6-6 overall (4-3-3 HEA) on the year, while the Huskies fall 10-4-2 (6-3-2) for the season.
Boston College opened the scoring just two minutes into the first period of play as freshman Ashley Motherwell scored her fourth goal of the season on a BC power play. Motherwell's goal was assisted by Blake Bolden and Allie Thunstrom.
Northeastern would tie the game at 1-1 at the 5:07 mark of the second period on a goal by Casey Pickett. The Eagles regained the lead just more than a minute later as sophomore Danielle Welch scored her first goal of the game on a wrist shot that beat the Northeastern goalie.
Throughout the game there was a lot of physical play, especially in the third period as there were six penalties issued in the period alone. Northeastern used this physical play to break through to tie the game back up at 2-2 a little more than halfway through the third period on a goal by Annie Hogan. Both teams had some quality chances toward the end of the period but neither could convert as the game went to overtime.
The Eagles wasted little time in the extra period as Welch netted the game-winner just 49 seconds into the game off a pass from Bolden to give BC a huge Hockey East victory.
Freshman goalie Corinne Boyles made 20 saves in the victory for the BC.
The Eagles will return to Kelley Rink this Tuesday, December 8, as they will take on New Hampshire at 7:00 p.m.