BOSTON COLLEGE EARNS SHOOTOUT WIN AGAINST MAINE
Ashley Motherwell's goal decides shootout for Eagles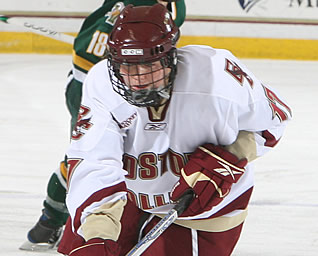 Danielle Welch also scored a shootout goal for BC
CHESTNUT HILL, Mass. - The Boston College women's ice hockey team skated to a 1-1 tie with Maine on Sunday at Kelley Rink before earning an extra point on its Hockey East record with a shootout win.
The Eagles are now 1-2-4 on the year while Maine is 2-4-1.
Both teams came off the opening faceoff looking to grab an early lead in the contest. At the end of the first period, the two teams had combined for 21 shots on net, but it was the Eagles who found themselves sitting pretty. Junior Laura Hart was able to find the back of the net off a feed from fellow line-mates, freshman Kristina Brown and sophomore, Danielle Welch.
The Black Bears would tie the game up less than a minute into the second period off a Myriam Croussette goal, and that is where the scoring would cease until the end of overtime.
With the game finished and each team having already secured a point for its records, the Eagles and Black Bears waited patiently for the chance to earn one more point with a shootout win.
Maine led the shootout 1-0 before freshman Blake Bolden was able to fire one past the Black Bears' keeper to tie the round at one apiece. Maine once again added a goal, but senior Allie Thunstrom answered right back for the Eagles and, after another Maine goal, Welch shot a low wrister that beat the Maine goalie on her glove side, tying the match at 3-3.
With the score still set at three all, freshman Ashley Motherwell skated up to take her chance at winning it for the Eagles once and for all. Six rounds after it had started, Motherwell had scored and BC had grabbed one more point in the Hockey East standings.
Sophomore goaltender Kiera Kingston made 25 saves on the day for the Eagles, as BC outshot Maine 36-26 overall.
The Eagles will travel to archrival Boston University on Monday, Nov. 2 to take on the Terriers at 7:00 p.m.