Saturday, February 13, 2010
BOSTON COLLEGE SWEEPS WEEKEND SERIES AT MAINE WITH 4-1 WIN
Mary Restuccia posts two goals and assist for Eagles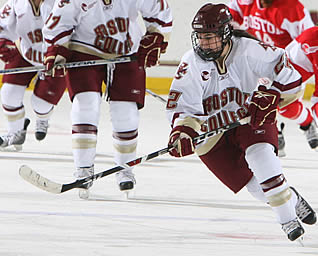 Mary Restuccia had two goals and an assist for BC
ORONO, Maine - The University of Maine women's ice hockey team dropped a 4-1 decision on senior day at Alfond Arena to Boston College on Saturday afternoon. With the loss, Maine drops to 6-18-5 and 3-13-3-1 in Women's Hockey East action while the Eagles to improve to 7-15-10, 6-9-44 in WHE. The Black Bears were led by senior Abby Barton (Woodstock, New Brunswick) who notched her fourth goal of the season.
The Black Bears took the lead 8:08 into the first period when senior Barton lit the lamp on a breakaway, beating Boston College goalie Kiera Kingston top shelf. Kaitlin Zeek (Wallingford, Conn.) and Myriam Crousette (Baie-Comeau, Quebec) assisted on Barton's fourth goal of the season.
The Eagles tied the game 3:04 into the second period when Caitlin Walsh tipped in a shot from Mary Restuccia.
Allie Thurnstrom would give Boston College a 2-1 lead 6:59 into the second off a feed from Kristina Brown.
Boston College would pull ahead by two goals when Restuccia picked up her eighth goal of the season while the Eagles skated on the power play. Alison Szlosek won the draw back to Ashley Motherwell. Motherwell would then send the puck across the Maine zone to Restuccia who fired a shot into the back of the Maine net.
The Eagles moved it to 4-1 when Restuccia added an empty net goal 3:29 into the third period as Restuccia picked the puck at center ice and fired it into the empty net as the Black Bears had pulled Candice Currier (Goffstown, N.H.) on the power play to gain a two-man advantage.
Maine continued to pressure, including skating with a 6-on-4 advantage and a 6-on-5 advantage for the final few minutes, but Kingston was stellar in net for the Eagles and held off the Black Bear attack to grab the win away from the Black Bears.
Kingston had 36 saves and improves her record to 2-6-3. Currier made 19 saves for the Black Bears but falls to 2-7-2 on the season.
The Black Bears conclude the 2009-2010 regular season when they travel to Boston University for a pair of games next Saturday and Sunday. A 3 p.m. puck drop is scheduled for both games.