Saturday, November 28, 2009
BOSTON COLLEGE FALLS TO MINNESOTA-DULUTH, 5-1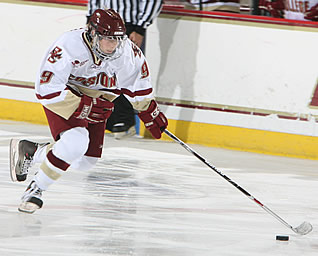 Allie Thunstrom scored a goal for the Eagles
CHESTNUT HILL, Mass. - The Boston College women's ice hockey team fell to #5 Minnesota-Duluth, 5-1 on Saturday afternoon at Kelley Rink in Chestnut Hill, Mass.
The Eagles dropped to 4-6-6 on the year while UMD moved to 12-6-0.
The Bulldogs came out strong off the opening face off, firing quick shots towards the BC net. The two teams kept a steady hold on one another through the first half of the period before UMD was able to sneak three goals past BC keeper, Corinne Boyles, in just over seven minutes.
Minnesota-Duluth would add another tally early in the second period to make the score 4-0 in favor of the Bulldogs. The Eagles showed some signs of life just over a minute later, when senior Allie Thunstrom knocked home a shot off an assist from freshman Kristina Brown to give BC its first goal of the day.
UMD would score one more tally in the third period to set the match at 5-1 for the Bulldogs.
Freshman Corinne Boyles made 27 saves for the Eagles on the afternoon. Minnesota-Duluth was able to outshoot BC 32-25 during the game.
For their next match, the Eagles will host Northeastern on Friday, December 4 at 7:00 p.m.