Friday, November 27, 2009
BOSTON COLLEGE TOPPED BY MINNESOTA-DULUTH, 3-0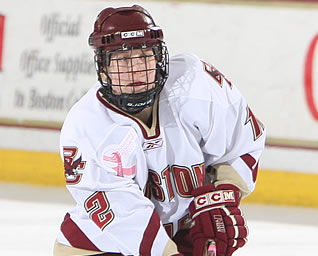 Shannon Webster
CHESTNUT HILL, Mass. - The Boston College women's ice hockey team lost to #5 Minnesota-Duluth 3-0 on Friday afternoon at Kelley Rink in Chestnut Hill, Mass.
The Eagles drop to 4-5-6 on the year while UMD improves to 11-6-0
The Bulldogs got the scoring started off early in the contest, notching the first tally less than a minute into the opening frame. The Eagles quickly bounced back from the deficit and responded by firing shots on the Minnesota-Duluth keeper.
UMD would score again late in the second period and notch another goal with just over two minutes remaining in the third.
BC goalie Kiera Kingston stopped 23 of the 26 shots she faced on the day. Kingston made some remarkable stops to keep the Eagles in the match when UMD found breakaway opportunities. The Bulldogs finished the game with a 26-22 edge in shots over the Eagles.
The Eagles will face-off against UMD tomorrow afternoon at Kelley Rink at 2:00 p.m.