Tuesday, February 2, 2010
BOSTON COLLEGE TOPPED BY HARVARD AT BEANPOT, 5-0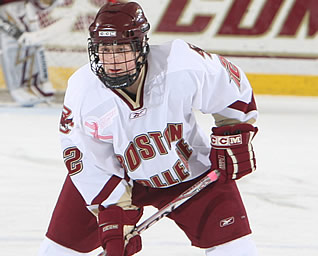 Shannon Webster
CAMBRIDGE, Mass. - The Boston College women's hockey team lost to No. 6 Harvard, 5-0 on Tuesday evening at the Bright Hockey Center in Cambridge, Mass.
The Eagles drop to 5-14-9 on the season while the Crimson move to 13-5-4.
The first period started with a great deal of energy and excitement as each team fought to grab the ever important first goal of the contest. The Crimson skaters took control early with consistent pressure in the Eagles' zone to start the game. BC managed to stand strong in its defensive end, blocking shot after shot before they could reach the BC goalie and pushing the puck up ice to start an attack of its own.
Both Harvard goalie Laura Bellamy and BC netminder Corinne Boyles were up to the task of aiding their teams, as the two nets remained empty for the duration of the period with the Crimson holding a 13-6 lead in shots.
The two teams continued to battle evenly with one another through the second period as well with neither team managing to gain an edge. Not until the 18:26 mark of the second period did a team find the back of the net as Liza Ryabkina snuck a power-play goal by Boyles to give the Crimson a 1-0 lead.
Harvard would add to its total in the third, notching another four tallies to finish the game 5-0. Ryabkina added to her total with three more scores for the Crimson.
Freshman goalie Corinne Boyles made a career high 46 saves on the night as Harvard outshot BC 51-15.
The Eagles will next travel to Storrs, Connecticut to take on UConn this Saturday at 1:00 p.m.