Sunday, November 15, 2009
BOSTON COLLEGE SHUTS OUT CONNECTICUT, 4-0
Corinne Boyles posts shutout with 42 saves for Eagles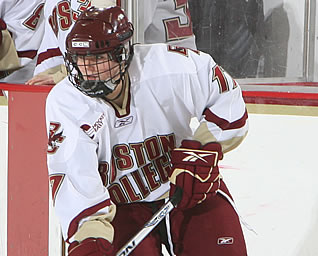 Danielle Welch had a goal for the Eagles
CHESTNUT HILL, Mass. - The Boston College women's ice hockey team finished off a strong weekend against Connecticut by notching a 4-0 victory over the Huskies on Sunday afternoon at Kelley Rink in Chestnut Hill, Mass.
The Eagles are now 4-3-5 on the year while Connecticut falls to 5-5-3.
Boston College came out of the gate quickly, using its momentum from an exciting shootout win over Connecticut the day before to jumpstart its energy for today's contest. Senior Allie Thunstrom got the scoring off midway through the first period for the Eagles, receiving a long pass from junior Katelyn Kurth and sliding it through the legs of the Huskies' keeper for the first goal of the game.
The Eagles did not hesitate at the start of the second period, as an early penalty to UConn gave BC a quick power play to start the second frame. Freshman Caitlin Walsh put BC up by two scores by knocking home a rebound while on the man advantage to make the score 2-0.
Sophomore Danielle Welch gave her team some breathing room 10 minutes later, by jumping in front of a Connecticut pass, skating in alone on the goalie and rifling it into the roof of the net to make it 3-0 in favor of the Eagles. A late deflection BC freshman Kristina Brown skipped into the Connecticut goal and notched the score at 4-0, where it would remain for the rest of the match.
BC freshman goalie Corinne Boyles finished the day with an impressive 42 saves for the Eagles, giving Boston College its second shutout in as many days.
The Eagles will play again at Kelley rink this Wednesday, November 18, when they will host archrival Boston University at 7:00 p.m.