Saturday, October 3, 2009
BOSTON COLLEGE TIES CLARKSON, 1-1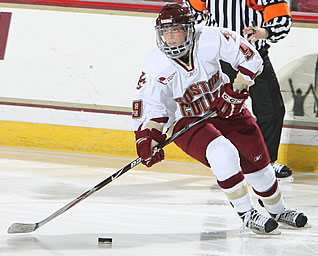 Allie Thunstrom had five shots in the game for BC
POTSDAM, N.Y. - The Boston College women's hockey team turned its momentum around from the poor start on Friday night, to tie Clarkson, 1-1 in Potsdam, N.Y on Saturday afternoon.
BC's record is now 0-1-1 on the year while Clarkson moves to 1-0-1.
Freshman goalie Corinne Boyles made the first start of her BC career and remained in net for the full three periods, allowing only one goal and making 45 saves on the day.
Clarkson took the first lead of the game at 10:39 of the third period on a power play goal by Melissa Waldie.
The Eagles wasted no time in responding to the Golden Knights by posting their second goal of the season only minutes after Clarkson notched its score.
Freshman Blake Bolden tallied her first point of the year; an unassisted goal that evened the game just over two minutes after Clarkson took the lead.
Clarkson outshot Boston College 46-23 on the day.
The Eagles return to Conte Forum next weekend, where they will host Syracuse on Friday, October 9 at 2:00 p.m.