BOSTON COLLEGE FALLS TO CLARKSON, 5-1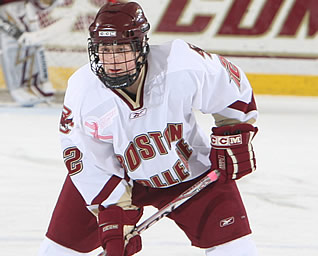 Shannon Webster scored the Eagle goal
POTSDAM, N.Y. - The Boston College women's hockey team dropped its season opener to Clarkson on Friday night, losing 5-1 in Potsdam, N.Y.
The loss drops BC to 0-1-0 on the year while Clarkson moves to 1-0-0.
The Eagles were able to notch their first goal of the season when the most experienced player on the roster, Shannon Webster, received a pass from freshman Caitlin Walsh and put one past the Clarkson keeper at 13:08 in the third period.
The Golden Knights managed to score the first four goals of the game, three of which came in the opening period. Clarkson also outshot the Eagles 29-15 on the day.
BC freshman Dru Burns finished the game with a +1 rating in her first collegiate matchup.
Freshman goalie Corinne Boyles made her debut in net for Boston College, stepping in to play the final 40 minutes between the pipes and stopping 20 shots in the process. Sophomore Kiera Kingston recorded her first start in goal of the year, making four saves during her time on the ice.
The Eagles and Golden Knights will face off again tomorrow afternoon at 3:00 p.m.