Tuesday, January 19, 2010
BOSTON UNIVERSITY TOPS BOSTON COLLEGE, 3-1
Melissa Haber makes 21 saves for Terriers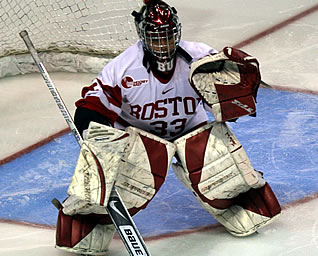 Melissa Haber made 21 saves for the Terriers
BOSTON - The Boston University women's ice hockey team captured the season series over rival Boston College, downing the Eagles 3-1, Tuesday night at Walter Brown Arena. The Terriers are now undefeated in their last four games, and improve their record to 9-6-8 on the season and 5-4-3-2 in conference play. The Eagles, who came into the game ranked second in Hockey East, slip to 5-10-9 on the year and 4-6-4-4 in conference action.
Holding a 2-0 lead to start the third period, the Terriers conceded their only goal of the game after Allie Thunstrom picked off a pass deep in the BU zone to bring the score to 2-1 with 14:47 to play. A hooking penalty on BU gave the Eagles a power-play opportunity late in the period, but the Terriers killed the power-play to remain perfect on the year on the penalty kill against BC. Holly Lorms sealed the 3-1 win with an empty-net tally at the 19:12 mark for the Terriers.
BU goalie Melissa Haber recorded her ninth win of the season, stopping 21 shots on the evening while her counterpart Corinne Boyles stopped 24 shots in the loss.
The Terriers struck first late in the opening stanza as Anderson collected her fifth goal in three games off an assist from Tara Watchorn. After a Melissa Tetreau shot sailed wide of the net, Watchorn collected the puck off the boards, drawing BC goalie Corinne Boyles off her line, and slid a pass to Anderson who fired true on the empty net with 44 seconds to play in the period.
BU extended its lead to 2-0 thanks to a heads-up play by Laurel Koller in front of the BC net. Jillian Kirchner received a pass down low from Carly Warren and fired a shot from close range that was stopped by Boyles. Koller jumped on the rebound and stuffed the puck home for a 2-0 lead with just over five minutes gone in the second. BU committed two penalties in the back half of the middle stanza, but killed off both to preserve the 2-0 lead at the second intermission.
BU hits the road for its next two games, taking on Vermont in a two game series in Burlington. The first game is on Friday, Jan. 22 at 7 p.m. and the second in at 4 p.m. on Saturday.