Tuesday, February 9, 2010
BOSTON UNIVERSITY AND BOSTON COLLEGE SKATE TO 1-1 TIE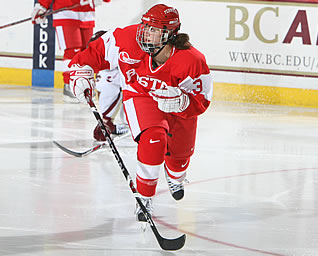 Kasey Boucher scored the game-tying goal for the Terriers
CAMBRIDGE, Mass. - The Boston College women's hockey team skated to a 1-1 tie against Boston University on Tuesday evening in Cambridge, Mass.
The Eagles move to 5-15-10 on the season while the Terriers are now 11-8-11.
Boston College opened up the scoring at 17:59 of the first period to give the Eagles an edge going into the first intermission. Two of the Eagles' seniors worked together to put BC up 1-0 as Shannon Webster's shot from the point deflected to Allie Thunstrom, who snapped the puck high into the net for her league leading 18th goal of the season.
The Eagles almost added another tally to the score late in the second period when sophomore Mary Restuccia skated in all alone on the BU keeper while shorthanded. Although she managed to beat the goaltender, her wrister clanged off the crossbar and back out in front of the net to keep the score at 1-0. The shot total after two periods was 18-9 in favor of the Terriers.
The score was still 1-0 when Boston University used their timeout at 9:02 of the third period to try and start something while on the power-play. Sophomore goalie Kiera Kingston stood tall while on the penalty kill but a mix up during a scrum left the net open and the Terriers would tie the game, 1-1.
Neither team managed to score in overtime and the game would end tied, 1-1.
Sophomore goalie Kiera Kingston made 32 saves on the day as the Terriers outshot the Eagles 33-17.
The Eagles will travel to Maine this weekend to take on the Black Bears for games on Friday and Saturday at the Alfond Sports Arena in Orono, Maine.