Penalties Costly as Catamounts Fall To Wayne State, 5-3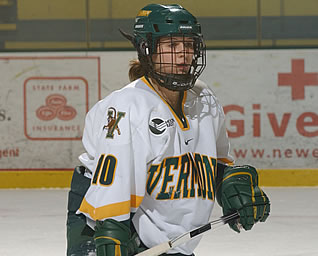 Chelsea Furlani scored a goal and an assist for Vermont.
BURLINGTON, Vt. -- A pair of second period power play goals by Sam Poyton lifted Wayne State to a 5-3 win over Vermont in college women's hockey Friday night at Gutterson Fieldhouse. The Warriors took advantage of 11 UVM penalties with four power play goals en route to the non-conference victory.
Chelsea Furlani (Colchester, Vt.) and Molly Morrison (South Burlington, Vt.) each had a goal and an assist as the Catamounts (2-7-0) battled back from a three-goal deficit midway through the contest before the Warriors held off the late rally. It was the first time in five games UVM scored more than one goal and it was the third time this season it tallied three or more.
"There are a heck of a lot of positives from tonight's game," said Vermont coach Tim Bothwell. "Our power play was good and it may have been the best first period we played since I have been here. We had good energy tonight and I thought we controlled the play when it was five-on-five. The only bad part was we took too many penalties. A couple were foolish and a couple more were unnecessary. That made the difference in tonight's game."
In addition to the four Wayne State goals with the extra skater, Vermont hurt itself with several penalties while on its own power play canceling any advantage.
UVM had several early chances and Erin Barley-Maloney (Raleigh, N.C.) put the Catamounts on the board with a power play goal, assisted by Celeste Doucet (Memramcook, New Brunswick) and Jackie Thode (Aurora, Colo.) at 13:51 of the first. The Warriors tied it on Lindsay DiPietro's goal with 2:17 left in the stanza, their only even strength goal of the night.
Wayne State scored three more unanswered goals to open the second period, all with an extra attacker, with two by Poyton and one by Veronique Laramee-Paquette, for a 4-1 lead. Morrison, on assists from Furlani and Peggy Wakeham (Bay Roberts, Newfoundland), scored on a Vermont power play at 15:38 to make it 4-2 at the second intermission.
Furlani, from Morrison and Melanie Greene (Queensbury, N.Y.), made it a one-goal contest with her third of the season at 6:51 of the final period. But just 33 seconds later, DiPietro scored again this time with two Catamounts in the box as the Warriors regained the two-goal advantage. Vermont had several good chances but goalie Delayne Brian turned all of them aside as Wayne State improved to 4-2-1 with the victory.
Vermont outshot the Warriors, 33-30, including 11-6 in the third period. Wayne State went 4-for-10 on the power play and UVM scored twice in eight opportunites. Brian finished with 30 saves while freshman Caitlin Whitlock (Westfield, N.J.), in her first start for the Catamounts, stopped 25 shots.
Vermont and Wayne State wrap up the series Saturday at 4 p.m. at Gutterson Fieldhouse in UVM's last home game until December 5. Admission is free for all UVM students (with a valid ID) and Rally's Round Up members for all regular season home games. For ticket information please call 1-866-4-CAT-TIX or log on to www.UVMathletics.com.