VERMONT ROLLS PAST UNION, 7-2
Six Catamounts post multi-point games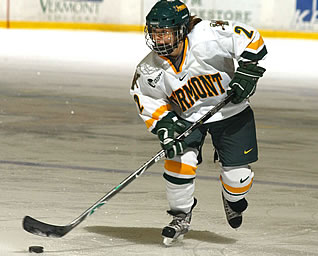 Molly Morrison scored the game-winner for Vermont
SCHENECTADY, N.Y. -- Celeste Doucet (Memramcook, New Brunswick) scored twice, Peggy Wakeham (Bay Roberts, Newfoundland) had a goal and three assists and Teddy Fortin (Brunswick, Maine) added a goal and set up two others as Vermont rolled past Union in women's college hockey Friday night at Messa Rink. Six different Catamounts scored goals in the team's regular season opener.
"We had a great effort tonight and this was a very good win for us," said Vermont head coach Tim Bothwell. "We started extremely well and Oly (Kristen Olychuck) made some huge stops on an early five-on-three disadvantage that kept the game at 1-0 in the first period. I'm also very pleased with our effort in the third that was a great way to finish a game."
Doucet tallied both of her goals and Fortin added hers in a four-goal third period outburst as Vermont broke open a tight game to win its season opener for the third straight year. UVM controlled play throughout the contest outshooting the Dutchwomen, 43-14, including a 15-1 margin in the final 20 minutes after Union used two late second period goals made it a 3-2 contest.
Wakeham, on an assist from Molly Morrison (South Burlington, Vt.), opened the scoring for the Catamounts with a power play goal 3:05 into the contest. UVM made it 3-0 on the first career goal for Erin Barley- Maloney (Raleigh, N.C.) at 2:49 of the second and a goal by Morrison at 9:08. The Dutchwomen battled back on a power play goal by Marissa Gentile at 14:08 and Kim Kowalchuck's even strength tally at 17:28 made it a 3-2 contest at the second intermission.
It was all Vermont in the third period as the Catamounts, behind goals by Doucet, freshman Kyleigh Palmer (Winnipeg, Manitoba) and Fortin, scored three times in a span of 3:34 early in the stanza. Doucet closed out the scoring converting a feed from Fortin with 3:08 remaining.
In addition to the multi-point games by Wakeham, Doucet and Fortin, Morrison, Barley-Maloney and Palmer each had a goal and an assist, and Jackie Thode (Aurora, Colo.) chipped in with two assists.
Both of Doucet's goals came on the power play as Vermont cashed in on three of its nine opportunities while UVM killed six of Union's power plays.
Kristen Olychuck (Kelowna, B.C.) stopped 12 shots to earn the victory. At the other end, Lundy Day made 36 saves for the Dutchwomen (0-3-0).
Vermont and Union wrap up the two-game series Saturday at 3:00pm at Messa Rink. The Catamounts then return home to host Connecticut on Saturday, October 18 at 2:00pm at Gutterson Fieldhouse in UVM's Hockey East opener. Admission is free to all UVM students (with a valid ID) and Rally's Round Up members for all regular season home games. For ticket information please call 1-866-4-CAT-TIX or log on to www.UVMathletics.com.