NEW HAMPSHIRE TOPS VERMONT, 6-2, TO SWEEP WEEKEND SERIES
Kelly Paton and Sam Faber each record four-point games for Wildcats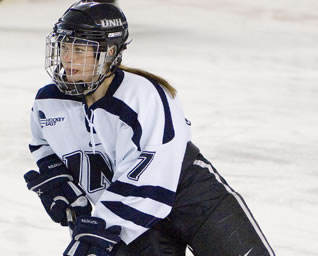 Kelly Paton had two goals and two assists for UNH
BURLINGTON, Vt. -- Kelly Paton scored twice and had two assists and Sam Faber set up four goals as fifth-ranked New Hampshire topped Vermont, 6-2, in women's Hockey East action Sunday at Gutterson Fieldhouse. UNH broke open a tight game with three power play goals in a 15 minute span overlapping the first and second periods to skate to its eighth straight win and strengthen its hold on first place in the league standings.
One day after holding the high-powered Wildcats without a power play goal in a 3-1 loss Saturday, UVM could not stop them with an extra-skater on Sunday as New Hampshire cashed in three times in six attempts including three of its first four opportunities.
"UNH is a tough team on the power play and they really showed it today," said Vermont coach Tim Bothwell. "At times we lacked a little composure and discipline on defense and those mistakes are death against a good team like New Hampshire. To give ourselves a chance against them or any other team we need to win more battles for the puck. Still, we are excited about the challenge ahead of us next weekend. Saturday is a must win game for us to keep our playoff hopes alive."
UVM (5-24-1, 3-14-0 Hockey East) needs to regroup next weekend in a bid for its first-ever postseason berth. The Catamounts are seven points behind sixth-place Northeastern for the final playoff spot with four games to go. They take on the Huskies next Saturday and Sunday before wrapping up the season with a pair against Maine on February 21-22.
Vermont scored first Sunday as Kyleigh Palmer (Winnipeg, Manitoba) converted a feed from Teddy Fortin (Brunswick, Maine) on a two-on-one just 3:46 into the contest. But midway through the first period, Angela Taylor and Paton scored 56 seconds apart as UNH quickly took the lead. Kacey Bellamy's five-on-three power play goal at 16:50 gave the Wildcats a 3-1 advantage at the first intermission.
Paton notched another power play goal 7:42 into the second to make it 4-1 before UVM bounced back with a power play goal of its own. On assists from Fortin and Palmer, Celeste Doucet (Memramcook, New Brunswick) snapped home a wrist shot from the high slot for her second goal in as many games to cut the margin in half. Just over two minutes later, Jenn Wakefield scored again with the extra skater for a 5-2 lead. Bellamy picked up an assist for her 100th career point. Micaela Long closed out the scoring for New Hampshire at 17:03 of the final frame.
The Catamounts were outshot, 32-10, for the contest with freshman goalie Caitlin Whitlock (Westfield, N.J.) finishing with 26 saves. Lindsay Minton stopped eight shots for the Wildcats (17-5-5, 12-2-3).
UVM went 1-for-4 with an extra skater, its 12th power play goal in league play this season after potting only five a year ago against Hockey East rivals.
Sunday's game was part of the annual Hockey East Skating Strides Against Breast Cancer event, the first time in three seasons it has been held at Gutterson Fieldhouse. All proceeds from special raffles and merchandise sales, and all gate receipts will benefit the Vermont Cancer Center. Also all weekend long, the Catamounts were selling 'Go Gilly Go' bracelets in honor of assistant coach Mike Gilligan's battle with cancer. The initial supply quickly sold out and more will be available at the final Vermont men's and women's home hockey games.
The Catamounts take on Northeastern next Saturday and Sunday at 2 p.m. at Matthews Arena in Boston. UVM then returns home to host Maine at Gutterson Fieldhouse on February 21-22. Vermont's four seniors will be honored prior to the game on Sunday, February 22. Admission is free for all UVM students (with a valid ID) and Rally's Round Up members for all regular season home games. For ticket information please call 1-866-4-CAT-TIX or log on to www.UVMathletics.com.