Friday, November 14, 2008
VERMONT DEFEATS QUINNIPIAC, 3-1
Kyleigh Palmer scores twice for Catamounts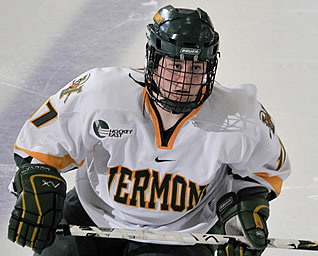 Kyleigh Palmer scored two goals for the Catamounts
HAMDEN, Conn. -- Freshman Kyleigh Palmer (Winnipeg, Manitoba) scored twice as Vermont held off Quinnipiac for a 3-1 victory in non- conference women's college hockey at the TD Banknorth Center Friday night. The win stops an eight-game losing streak for the Catamounts (3-8-0) who last won at Union on October 11.
Palmer doubled her rookie season output of two goals in the first two periods while linemates Erin Barley-Maloney (Raleigh, N.C.) and Teddy Fortin (Brunswick, Maine) each finished with two asslsts. Sophomore blueliner Saleah Morrison (Selkirk, Manitoba), Palmer's prep school teammate at the Balmoral Hall School in Winnipeg, chipped in with the other Cats goal. Kristen Olychuck (Kelowna, B.C.) made 16 saves with 13 coming in the first two periods as UVM opened up its lead.
"This is a real good win for us especially coming on the road," said Vermont coach Tim Bothwell. "We battled hard and checked very well. I also thought we did a great job tonight killing penalties, an improvement over last weekend. We killed a couple of five-on-threes early on where we limited them to just a couple shots. We look to continue this excellent effort at Princeton tomorrow afternoon."
Morrison opened the scoring 12:28 into the contest with her first goal of the season on assists from Barley-Maloney and Fortin. Palmer made it 2-0 converting a feed from Barley- Maloney for the eventual game-winner 20 seconds before the first intermission.
Palmer gave the Cats a 3-0 lead at 9:09 of the middle period with her second of the night and fourth of the season on assists by Fortin and Shannon Bellefeuille (Kanata, Ontario).
Quinnipiac threatened mildly in the third and Chelsea Illchuk made it a 3-1 game with 6:45 to play. UVM and Olychuck then closed out the Bobcats for its third road win in five tries this season.
Vermont outshot Quinnipiac, 18-17, for the game and all four goals came at even strength. The Catamounts killed all seven power play opportunities while limiting QU to just three power play shots. UVM went 0-for-4 with an extra attacker in the cleanly played game.
Goaltender Tia Wishart stopped nine shots for the ECAC Bobcats (2-10-1) before giving way to Nana Holm-Glass midway through the second stanza. Holm-Glass finished with six saves in just over 30 minutes.
Vermont continues its five-game road swing with another non-league match at Princeton Saturday at 4 p.m. UVM's next home game is against Hockey East rival Boston University on Friday, December 5 at 3 p.m at Gutterson Fieldhouse. Admission is free for all UVM students (with a valid ID) and Rally's Round Up members for all regular season home games. For ticket information please call 1- 866-4-CAT-TIX or log on to www.UVMathletics.com.