Providence falls to Vermont, 5-2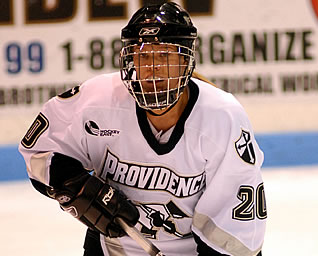 Mari Pehkonen had two assists for Providence.
Providence, R.I. - The Providence College women's hockey team gave up three second period goals and fell to Vermont, 5-2, at Schneider Arena. The Friars saw goals from freshmen Kate Bacon (Chanhassen, Minn.) and Jennifer Friedman (San Gabriel, Calif.) as their record falls to 12-10-2 (7-3-1 HE). Vermont earned its third Hockey East victory of the season and improves to 5-18-1 (3-8-0).
Providence netted the first of the game when senior Mari Pehkonen (Tampere, Finland) won a face off in the neutral zone and sent a pass off the boards to classmate Erin Normore (Cambridge, Ontario). Normore out-skated her defended towards the goal line before dropping the puck into the slot where Bacon was waiting to lift the puck over the right shoulder of Vermont goalie Kristen Olychuck for her sixth of the season. Normore and Pehkonen registered their 12th and fourth assists on the play.
The Catamounts would respond with seven minutes remaining after a collision between two PC defenders led to a two-player breakaway. Vermont's Kelly Nash sent a long pass from the right boards to Erin Barley-Maloney who skated in towards the PC cage and dropped the puck onto the stick of Teddy Fortin. Fortin's quick shot beat Friar netminder Genevieve Lacasse (Scarborough, Ontario) to tie the game. The Friars would take a 2-1 lead with only four seconds remaining to close out the scoring in the first. Friedman received the puck from Katy Beach (Cleveland, Ohio) in the high slot and sent a hard slap shot off the left post and into the net for her fourth goal of the season, her third goal off a slap shot this weekend. Mari Pehkonen also earned an assist on the play.
Vermont came out in the second and netted three straight goals to put Providence away. The Catamounts took advantage of two consecutive five-on-three power-plays as Molly Morrison and Brittany Nelson scored the game-tying and game-winning goals for Vermont. Chelsea Furlani would put Vermont up two at 16:34. The Catamounts outshot PC 11-7 in the deciding period. UVM would add an insurance goal to make the score 5-2 at 17:47 after the Friars pulled their goalie in hopes of making the late-game comeback.
Lacasse finished the game with 15 saves but falls to 10-7 while Olychuck stopped 26 shots and now stands at 3-12-1.
The Friars will look to get back on track on Saturday, January 24, when they host Boston University at 2:00 p.m. in Schneider Arena.