PROVIDENCE FALLS TO ST. LAWRENCE, 3-1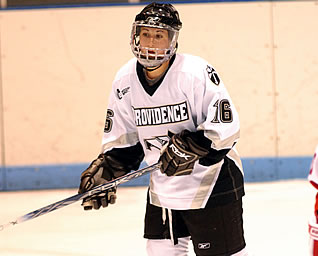 Katy Beach picked up an assist for the Friars
Providence, R.I. - Providence College fell, 3-1, to No. 7 St. Lawrence in a non-conference game held at Schneider Arena. Freshman Genevieve Lacasse (Scarborough, Ontario) registered 26 saves in the contest, but it wasn't enough to earn the first win for the Friars in 2008.
St. Lawrence got on the board first at 7:35 of the first period. The Saints earned a power-play and would capitalize one minute into the man-advantage. Junior forward Tara Akstull received a pass on the right side of the net and snuck the puck beneath the pads of Lacasse for her first goal of the season. The assists went to Marianna Locke and Alison Domenico. At the end of one period, St. Lawrence held a 12-10 advantage in shots.
The game would stay 1-0 in favor of the Saints as the two teams battled throughout the second period. The Friars were able to fend off five St. Lawrence power-plays as the Saints outshot PC, 11-2, in the second period. St. Lawrence goaltender Brittony Chartier was able to deny the Friars of finishing off any solid scoring opportunities. At the conclusion of two periods, PC was down, 21-14, in shots on target.
The third period saw St. Lawrence score the eventual game winner. Captain Carson Duggan put the Saints up, 2-0, at 4:15. The senior corralled the rebound off a shot from Michelle Zimmerman and put the puck away for the goal.
At 8:18 of the period, as the Friars were knocking on the doorstep, a St. Lawrence player illegally handled the puck in the Saints' crease and a PC penalty shot was awarded. However, Chartier was up to the challenge as she denied the Providence shooter with a sliding save with her left pad.
Providence would get their lone goal of the game at 18:38 of the final stanza as the Friars went on the power-play and pulled their goalie to have a six-on-four advantage. Following some good puck movement, freshman Laura Veharanta (La Verne, Calif.) fired a shot home from the slot for her team-leading second goal of the season. The score was assisted by classmate Abby Gauthier (Lynn, Mass.) and senior Katy Beach (Cleveland, Ohio). St. Lawrence would put the game out of reach, however, as Duggan scored her second goal of the game on the empty Friar net with only 12 seconds remaining.
With the loss, Providence falls to 0-3 on the season while St. Lawrence becomes 1-0.
The Friars are next in action on Saturday, October 11 at 4:00 p.m. when they host Colgate University in Schneider Arena.