Saturday, November 8, 2008
PC SWEEPS SERIES AT ROBERT MORRIS WITH 5-2 WIN
Erin Normore and Laura Veharanta each score two goals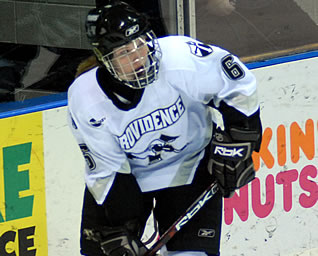 Erin Normore scored two goals for the Friars
Providence, R.I. (November 8, 2008) - The Providence College women's ice hockey team defeated Robert Morris, 5-2. Freshman Laura Veharanta (La Verne, Calif.) and senior Erin Nomore (Cambridge, Ontario) each tally two goals and freshman Ashley Cottrell (Sterling Heights, Mich.) finishes with three assists to lead Friars to back-to-back victories over the Colonials. Providence improves to 5-5-1 (2-2-1 HOCKEY EAST), while Robert Morris falls to 4-6-0 (2-0-0 CHA).
Robert Morris jumped on top just 1:30 into the game and had leads of 1-0 and 2-1 but the Friar attack was too much for the Colonials as PC put home five goals on the evening. Laura Veharanta evened the score at 1-1 with her seventh power-play goal of the season, ninth overall, at 5:19 in the first period. She was assisted by junior Jackie Duncan (Kitchener, Ontario) and classmate Ashley Cottrell. Following a RMU goal, Veharanta netted her second of the game at 8:36. The assists went to Cottrell and sophomore Alyse Ruff (Tualatin, Ore.).
The two teams went into the locker room tied, 2-2. Genevieve Lacasse (Scarborough, Ontario) finished the period with seven saves while Robert Morris netminder Brianne McLaughlin denied 12 of the 14 Friar shots.
The Friars came out for the second period and put the game away just 35 seconds in. Following passes from sophomore Amber Yung (Rockville, Va.) and Cottrell, Alyse Ruff put home her fourth goal of the season. The assist was the third of the game for Cottrell and sixth overall. Robert Morris was unable to beat Lacasse in the second period as she finished the stanza with nine saves.
Providence added two insurance goals in the third period to finish off the Colonials. At 14:14, Normore would score her first of the game. The assists went to Kate Bacon (Chanhassen, Minn.) and senior captain Brittany Simpson (Barrie, Ontario). With only 22 seconds remaining, Normore would add an empty net tally for her third goal of the season. Simpson added her second assist of the night, sixth of the season, on the play.
Lacasse finished the game with 25 saves to improve her record to 4-3 while McLaughlin stopped 35 Friar shots but falls to 4-5.
The Friars will prepare for a pivotal Hockey East game against the University of Connecticut on Sunday, November 16. The game will be played at the friendly confines of Schneider Arena beginning at 2:00 p.m.