Providence College Defeats Robert Morris, 3-1
Kate Bacon registered a goal and an assist in the victory.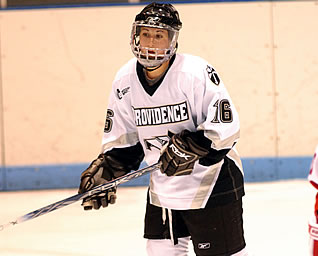 Katy Beach scored for the Friars.
Providence, R.I. - The Providence College women's ice hockey team defeated Robert Morris, 3-1. Freshman Laura Veharanta (La Verne, Calif.) nets the game winner at 19:13 of the second period. Providence now stands at 4-5-1 (2-2-1 HOCKEY EAST), while Robert Morris falls to 4-5-0 (2-0-0 CHA).
Senior assistant captain Katy Beach (Cleveland, Ohio) put the Friars on the board at 8:52 of the initial period. Following a Robert Morris penalty, Beach tallied her third goal of the year. The assists went to senior Erin Normore (Cambridge, Ontario) and freshman Kate Bacon (Chanhassen, Minn.), their sixth and first assist on the season, respectively.
Neither team was able to score the rest of the period as the Friars went into the locker room up, 1-0, after 20 minutes of play. Friar netminder Genevieve Lacasse (Scarborough, Ontario) finished the period with 7 saves while RMU goaltender, Brianne McLaughlin denied 14 shots.
The second period went scoreless until 19:13 when Veharanta was able to net her team-leading eigth goal of the season. Classmate Ashley Cottrell (Sterling Heights, Mich.) and junior Arianna Rigano (Malden, Mass.) assisted on the game winner. At the end of two periods, the Friars held a decisive edge in shots, 23-10.
RMU would close the gap to one following an even-strength goal by Jacki Gibson but it wasn't enough as the Friars add an insurance tally with an empty-net goal with only 28 seconds remaining. Bacon put the game out of reach with her third goal of the year.
Lacasse stopped 27 shots to earn the victory as she improves to 3-3-0 while McLaughlin stopped 27 shots but falls to 4-4-0.
The two teams will face-off again on Saturday for the second game of the weekend series. The puck drops at 7:35 at Clearview Arena.