Saturday, November 15, 2008
VERMONT TOPPLED BY PRINCETON, 3-1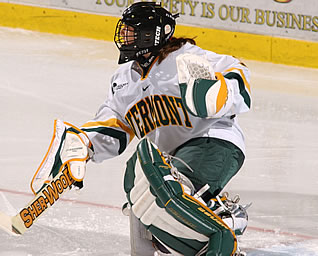 Ashley Walenty made 33 saves for the Catamounts
PRINCETON, N.J. -- Senior goalie Ashley Walenty (Lake Placid, N.Y.) made a career-high 33 saves but a three-goal second period gave Princeton a 3-1 victory over Vermont in non-league women's college hockey action Saturday afternoon at Hobey Baker Rink. The Catamounts (3-9-0), who topped Quinnipiac by the same score Friday night, picked up a split in two games this weekend against ECAC foes.
"We played two very good periods on the road against a very good team in Princeton," said Vermont coach Tim Bothwell. "Ashley Walenty was very good for us in goal today but we had a little mental fatigue and lost our composure in the second period that cost us the game. Overall this weekend we played pretty good hockey for five periods. We hope to continue to play well in our next time out, a huge league game up in Maine."
Vermont was out-shot 10-4 in the first but it was Cats freshman Erin Barley-Maloney (Raleigh, N.C.) who opened the scoring with a power play goal at 13:10. Kyleigh Palmer (Winnipeg, Manitoba) and Saleah Morrison (Selkirk, Manitoba) picked up assists on Barley-Maloney's team-high fifth goal of the season.
The Tigers kept up their pressure to start the second and 53 seconds into stanza, Paula Romanchuk tied it with a power play goal of her own. Danielle DiCesare gave Princeton the lead with her fourth of the season at 8:31. Charissa Stadnyk added to the Tigers lead with a goal at 12:33.
UVM had a pair of power play chances in the final period but could not cut into the two-goal deficit.
Princeton finished with a 36-8 advantage in shots for the contest including a whopping 22-1 in the middle period. Both teams converted one power play opportunity with UVM going 1-for-4 and the Tigers, 1-for-5. Kristen Young made seven saves to pick up the win for Princeton (3-5-0).
Barley-Maloney and Palmer each had three points on the weekend for the Catamounts who snapped their eight-game losing streak in Friday's win. In addition to her team-high five goals, Barley-Maloney leads the Cats with nine points (5-4-9) in her first 11 collegiate games and ranks fourth among Hockey East rookies in points and is tied for third in goals. Palmer also has made a solid debut with four goals and seven points in 10 games.
Vermont takes a nine-day break from action next playing against Hockey East rival Maine on Tuesday, November 24 at the Androscoggin Bank Colisee in Lewiston, Maine. UVM's next home game is against Hockey East rival Boston University on Friday, December 5 at 3 p.m at Gutterson Fieldhouse. Admission is free for all UVM students (with a valid ID) and Rally's Round Up members for all regular season home games. For ticket information please call 1-866-4-CAT-TIX or log on to www.UVMathletics.com.