Saturday, October 4, 2008
PROVIDENCE COLLEGE EDGED BY OHIO STATE, 3-2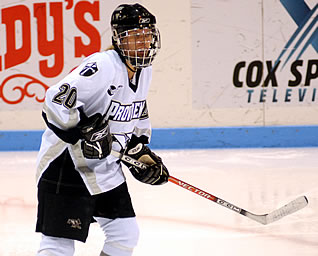 Mari Pehkonen scored a goal for PC
Providence, R.I. (October 3, 2008) - In the second game of the weekend series, the Providence College women's hockey team fell to Buckeyes of Ohio State, 3-2. Freshman Abby Gauthier (Lynn, Mass.) tallied her first collegiate goal in the first period.
The Friars jumped out to an early lead just 1:57 into the first period when junior forward Jackie Duncan (Kitchener, Ontario) stationed herself behind the net and found Gauthier in the slot. Gauthier had no hesitation and fired the puck past Buckeye net-minder Liana Bonanno. The early lead would only hold for two minutes as Ohio State found the net at 4:05 of the first period when freshman forward Natilie Spooner scored following a scramble in front of the net. The power-play goal was her first as a Buckeye.
The second period saw only one tally as senior Mari Pehkonen (Tampere, Finland) scored off a missed shot from classmate Brittany Simpson (Barrie, Ontario). The power-play goal was the first of the season for Pehkonen. The Buckeyes owned a 24-20 advantage in shots on goal and the second period ended with Providence ahead, 2-1.
Ohio State came out in the third and registered a few quick shots to put the pressure on the Friars. The Friar defense stayed strong throughout the second period but gave way when Morgan Marziali registered an even-strength goal at 6:57. The game-tying goal was assisted by Natalie Spooner. The Buckeyes would get the game winner seven minutes later when Laura McIntosh scooped up the puck in the neutral zone before beating two Friar defensemen and slipping the puck under the Providence goaltender Genevieve Lacasse (Scarborough, Ontario).
For Providence, Lacasse registered 32 saves in her first career start. Liana Bonanno stopped 31 shots for Ohio State in the victory.
With the loss, the Friars fall to 0-2 while the Buckeyes improve to 2-0 on the season. Providence is next in action on Friday, October 10 at 4:00 p.m. when they host St. Lawrence in Schneider Arena.