Saturday, November 15, 2008
NORTHEASTERN TOPPED BY WAYNE STATE, 3-2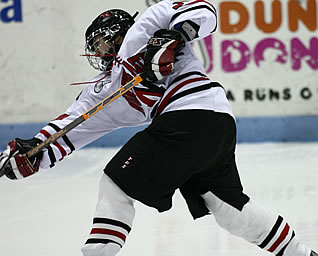 Kristi Kehoe scored both Husky goals
DETROIT, Mich. - Northeastern suffered its second consecutive loss to Wayne State Saturday after a 3-2 setback at the Warriors' City Sports Center in Detroit Mich.
Lindsay DiPietro struck first for the Warriors late in the first period to give the Warriors a 1-0 lead. Kristi Kehoe notched her team-leading ninth and tenth goals before the end of the period to give Northeastern the lead at the first intermission.
Wayne State's Melissa Boal tied the game at two with her second-period strike, and Chelsea Burnett gave the Warriors the lead in the first minute of the third period. Northeastern could not find the equalizer. The loss is the first loss for freshman goalie Florence Schelling. Northeastern's penalty kill, which entered the game second in Hockey East, allowed two power play goals on four Wayne State power play opportunities.
The Huskies' next game is Nov. 26 at New Hampshire at 5 p.m.