Friday, November 14, 2008
NORTHEASTERN EDGED BY WAYNE STATE, 4-3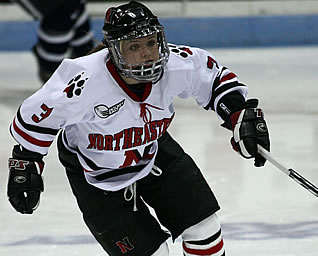 Annie Hogan had a goal and an assists for the Huskies
The Huskies fell to 6-2-2 overall after suffering a 4-3 loss to Wayne State Friday night in Detroit, Mich.
Wayne State's Sam Poyton scored the first of four goals on the night a mere 40 seconds into the game to put the Huskies in an early hole. Northeastern's Annie Hogan answered back with less than six minutes left in the first period to tie the game at one, but Poyton struck again at 18:08 to give the Warriors a 2-1 lead at the first intermission.
Northeastern came out firing in the second period, outshooting the Warriors 16-8. Two Wayne State penalties in the period gave NU two power play opportunities. Kristi Kehoe converted on one of them, scoring her team-leading eighth goal of the season to level the game at two. The Huskies kept up the offensive pressure, and Erin Reil made it pay off with her first goal of the season.
Northeastern could not hold on to the lead, however. The Huskies surrendered another quick goal at the start of the third period, with Poyton completing her hat trick 46 seconds into the third frame. She added another to give Wayne State a 4-3 lead midway through the period. The Huskies' penalty kill remained strong, as it has been all season, snuffing out two third-period Wayne State power plays to keep the Huskies in the game, but they could not find the equalizing goal.
The Huskies will look to rebound in the rematch against Wayne State Saturday at 2 p.m.