Saturday, February 14, 2009
POWER-PLAY LIFTS VERMONT PAST NORTHEASTERN, 4-3
Catamounts strike for three power-play goals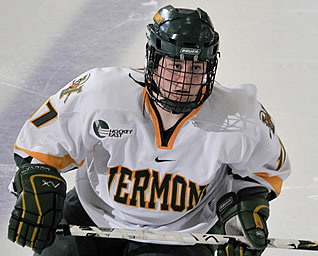 Kyleigh Palmer scored the game-winner for Vermont
BOSTON, Mass. - Northeastern got goals from three different scorers, but struggled to overcome 35 penalty minutes, and lost to the Vermont Catamounts 4-3 at Matthews Arena Saturday. The two teams battled to a stalemate for most of the first period, forechecking agressively, and denying each other an easy breakout. "We go into every game and we try to be as aggressive as we can," said Head Coach Dave Flint. "I thought we were a little sloppy in the first, we weren't making our passes, and we weren't supporting the puck."
Despite the sloppy play, Missy Elumba got Northeastern on the board late in the first period. Katy Applin's shot from the point bounced off of Vermont goalie Kristen Olychuk, and while Olychuk was down on the ice, Elumba smacked home the loose puck.
Northeastern got inro penalty trouble in the second, and found itself on the short end of a five-on three for 1:32 of the second period. Vermont capitalized, with Brittany Nelson potting the rebound off of Molly Morrison's shot. Vermont truck again and took back the lead on the power play resulting from a Colleen Sanborn penalty, this time with Morrison finding the back of the net off an assist from Nelson.
Northeastern leveled things at two in the third period when Colleen Sanborn fought through traffic in front of the net to tally the equalizer.
Vermont's Sarah Smiddy put the Catamounts back on top in the third, but Lindsay Berman answered right back for the Huskies, tying things at three.
Northeastern was forced to endure another three-on-five situation, after penalties on Stephanie Gavronsky and Ali Bielawski, and Vermont capitalized, with Kyleigh Palmer notching the go-ahead goal. Northeastern pulled goalie Florence Schelling for the final 1:16, but could not find the back of the net.
Northeastern drops to 11-17-3 (6-11-1 HEA) with the loss. The Huskies play Vermont again Sunday at 2 p.m., and can clinch a playoff berth with a win.