Saturday, October 4, 2008
NORTHEASTERN ROLLS PAST UNION, 6-0
Kristi Kehoe notched hat trick for Huskies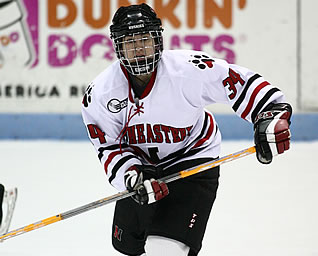 Kristi Kehoe picked up a hat trick for Northeastern
SCHENECTADY, N.Y. - The Huskies improved to 2-0 with a strong 6-0 win over the Union Dutchwomen Saturday at Union's Frank L. Messa Rink.
The scoring all belonged to Northeastern. Team co-captain Colleen Sanborn notched the eventual game-winning goal 7:27 into the first period, and the Huskies would not look back. Kristi Kehoe added the first of what would be three goals later in the period. Sanborn and Kehoe had the next two NU goals, Sanborn's being the only strike of the second period, and Kehoe's second goal coming in the third period. Alyssa Wohlfeiler got the Huskies' fifth goal, and Kehoe's third goal of the night was the Huskies' sixth.
In all, four Huskies had multi-point games: Kehoe with three points on three goals, Kasey Cedorchuk with two points on two assists, Sanborn with two points on two goals, and Ali Bielawski with two points on two assists.
Sophomore goalie Leah Sulyma was relatively untested in net, saving all six shots she faced to earn the win and the shutout.
The Huskies travel to Bemidji State for a two-game away and away series Oct. 10 and 11, before returning to Matthews Arena for their home opener Oct. 18 against Providence. The game will be at 1 p.m. and will have live web video at gonu.tv.