Tuesday, January 20, 2009
NEW HAMPSHIRE RALLIES PAST NORTHEASTERN, 4-2
Kelly Paton and Angela Taylor each post goal and assist for Wildcats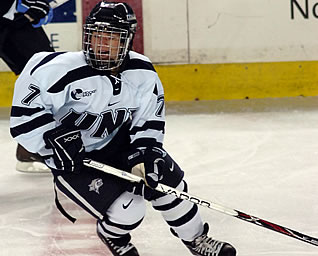 Kelly Paton had a goal and an assists for the Wildcats
BOSTON, Mass. - Northeastern led briefly in the third period, but surrendered three unanswered goals in the third in a 4-2 loss to seventh-ranked New Hampshire Tuesday night at Matthews Arena.
New Hampshire struck first when Kelly Paton scored her 12th goal of the season to put the Huskies in an early hole. Missy Elumba answered back four minutes later when she took a pass from Kristi Kehoe inside the crease and beat Wildcat goalie Lindsey Minton to tie the game at one. New Hampshire almost took the lead back with less than two minutes left in the priod, but Sam Faber's shot from the point found the crossbar.
Leah Sulyma kept the Huskies in the game in the second period, making 16 of her 38 saves to keep the score tied at one for the duration of the frame. Northeastern committed four penalties in the second, and, spending much of the period on the penalty kill, found itself outshot 16-1. Sulyma and the Huskies' penalty kill were stellar, and the Wildcats had nothing to show for their shot advantage as the teams went into the locker room tied at one.
Ali Bielawski gave the Huskies the lead midway through the third when she and Annie Hogan started a shorthanded two-on-one rush. After getting the puck back from Hogan, Bielawski beat Minton on the left side to put the Huskies in front.
New Hampshire would answer back, however, and Faber potted the equalizer minutes later when she corralled the rebound off of Kelly Cahill's shot and beat Sulyma with a quick put-back. With less than two minutes remaining, Sulyma got caught in traffic while playing a puck behind the net, and New Hampshire was able to get a shot off before she coiuld recover, and took the lead with 1:57 remaining. Down by one, Northeastern pulled Sulyma for the extra attacker, but gave up the puck, and Angela Taylor converted the empty-net goal to secure the win for New Hampshire
Sulyma finished the night with 38 saves, giving her 1,285 for her career, which moves her into 6th place on Northeastern's all-time career saves list, passing Kelly Dyer.