Saturday, October 18, 2008
NORTHEASTERN SHUTS OUT PROVIDENCE, 1-0
Freshman Florence Schelling posts shutout with 31 saves for Huskies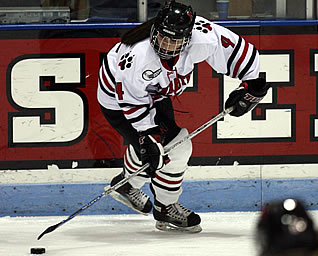 NU's Ali Bielawski netted the lone goal of the game
BOSTON, Mass. - The Huskies skated to a 1-0 victory over the Providence College Friars in the Huskies' home opener at Matthews Arena Saturday. The Huskies improve to 3-0-2, 1-0-0 HEA with the win.
The game wasa defensive battle through the first two periods. Both teams generated a significant amount of offense, but both schools' netminders were sharp, keeping the game scoreless through two periods. Ali Bielawski had NU's best scoring opportunity in the first half, when she broke loose from the Providence defense, and deked Providence goalie Danielle Ciarletta. Bielawski's shot clanged off the post, however, and the Huskies remained goalless.
Florence Schelling turned in a great performance for the Huskies, making 31 saves on the night, including an acrobatic stop early in the third to keep Providence off the board. A shot from the right side caromed off a player in front of the goal, and Schelling reacted quickly and deflected the puck away while sliding to her left.
The Huskies broke the 0-0 tie when Stephanie Gavronsky launched a diagonal pass from deep in NU's end to Bielawski at the Providence blue line. Bielawski fended off a Providence defender, deked to her right, and beat Ciarletta for her first goal of the season. The Huskies held off the Friars in the final minutes, killing a Providence two-man advantage to secure the win.
The Huskies have not started a season with a five-game unbeaten streak since 2001-02. They have not won their first Hockey East game since 2005-06 when they topped Boston University in their season opener.
The Huskies travel to Connecticut Sunday, Oct. 19, then return to Matthews Arena Oct. 25 to host Quinnipiac.