NEW HAMPSHIRE SURGES PAST NIAGARA, 5-2
Birchard, Paton tally two goals for Wildcats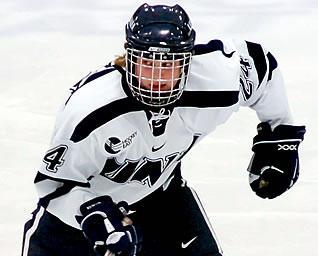 Courtney Birchard scored two goals for the Wildcats
NIAGARA UNIVERSITY, N.Y. - Courtney Birchard (Mississauga, Ontario) and Kelly Paton (Woodstock, Ontario) both scored two goals to lead the fourth-ranked University of New Hampshire women's ice hockey team to Sunday afternoon's 5-2 non-conference victory against Niagara University at Dwyer Arena.
UNH, which defeated the Purple Eagles 5-3 on Saturday, completed the two-game series sweep to improve to 2-0-1 overall this season. Dating back to last season, the Wildcats are unbeaten in 19 consecutive regular-season games (17-0-2). Niagara is now 0-4-0 this year and 3-20-0 lifetime with 14 straight losses vs. the 'Cats.
Birchard, who potted UNH's second and third goals, tied her career high of two goals and also tallied an assist to finish with three points. Jenn Wakefield (Pickering, Ontario; 1g, 1a) and Sam Faber (Mt. Sinai, N.Y.; 2a) also finished with multiple points for the 'Cats.
UNH goaltender Kayley Herman (Weyburn, Saskatchewan) made half of her 22 saves in the second period. Niagara counterpart Jenni Bauer recorded double-digit saves all three stanzas (13-11-10) to finish with 34.
Paton, who matched her personal best of two goals, gave New Hampshire an early 1-0 lead with her first goal of the season, an even-strength tally at 2:49 of the first period. Faber was credited with an assist.
The Wildcats took that 1-0 lead and a 14-4 shot advantage into the first intermission.
Birchard, with the assistance of Angela Taylor (Paisley, Scotland), increased the cushion to 2-0 at 1:06 of the second stanza.
The Purple Eagles rallied to tie the score on tallies 50 seconds apart. Nathalie Larsen netted a power-play goal at 10:22 and set up Frances McPhail's strike at 11:12.
New Hampshire quickly responded with two goals to reestablish a two-goal lead. Birchard, from Wakefield, put the 'Cats back in front, 3-2, with what proved to be the game-winning goal at 12:22. Paton potted her second of the game just 26 seconds later with the assistance of Micaela Long (South Boston, Mass.) and Faber.
Wakefield netted her team-leading third goal of the season at 17:19 to close the scoring. Birchard was credited with the lone assist on the play.
UNH went 0-for-7 on the power play to mark the first time this year that the Wildcats did not score with the skater advantage. Niagara finished 1-for-8 on the power play.
New Hampshire returns to action Oct. 15 (7 p.m.) at the University of Connecticut. The Wildcats play at home next weekend against both St. Lawrence University (Oct. 18; 2 p.m.) and Clarkson University (Oct. 19; 12 p.m.). Tickets are available at the Whittemore Center Box Office and online at www.unhwildcats.com.