Saturday, October 11, 2008
NEW HAMPSHIRE UPENDS NIAGARA, 5-3
Jenn Wakefield posts two goals and two assists for Wildcats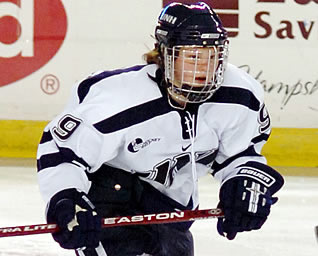 Jenn Wakefield had two goals and two assists for UNH
NIAGARA UNIVERSITY, N.Y. - Jenn Wakefield (Pickering, Ontario) matched her career highs in goals (two), assists (two) and points (four) to lead the fourth-ranked University of New Hampshire women's ice hockey team to Saturday afternoon's 5-3 non-conference victory against Niagara University at Dwyer Arena.
UNH improved to 1-0-1 on the season and 19-3-0 lifetime against Niagara with its 13th consecutive win in the series vs. the Purple Eagles, who are now 0-3-0.
Sam Faber (Mt. Sinai, N.Y.) was the other Wildcat to finish with multiple points on a one-goal, two-assist performance, and she recorded her 150th career point on the last of her three points. Angela Taylor (Paisley, Scotland) and Kelly Cahill (Farmington Hills, Mich.) netted UNH's other goals, and it marked the first point as a 'Cat for Cahill, the junior defenseman who transferred from The Ohio State University.
UNH goaltender Kayley Herman (Weyburn, Saskatchewan) made 11 of her 21 saves in the first period. NU's Jenni Bauer, who was pulled for the final 1:03 in favor of an extra attacker, stopped 27 shots.
Cahill, with the assistance of Faber and Wakefield, gave New Hampshire a 1-0 lead with a power-play goal at 2:53 of the first period.
The Purple Eagles pulled even, 1-1, at 9:32 when Frances McPhail netted a power-play goal.
Wakefield, with her first goal of the year, scored on the power play at 12:59 of the opening frame to put the 'Cats back in front, 2-1. Faber and Kacey Bellamy (Westfield, Mass.) were credited with assists.
Taylor and Wakefield potted goals 25 seconds apart - at 13:13 and 13:38, respectively - to extend UNH's lead to 4-1. Courtney Sheary (Melrose, Mass.) and Wakefield set up Taylor's tally and Courtney Birchard (Mississauga, Ontario) picked up an assist on Wakefield's game-winning goal.
Ashley Riggs scored 10 seconds into the third period to lift the Purple Eagles within 4-2, but Faber, with the assistance of Kelly Paton (Woodstock, Ontario), re-established a three-goal advantage at 9:12 to record her 150th career point.
Mary McKinnon's power-play goal capped the scoring at 15:17.
Faber is the 13th UNH Wildcat to reach the 150-point milestone. She now has 66 goals and 84 assists in 110 career games.
UNH finished the game with a 32-24 shot advantage. The Wildcats were 2-for-7 on the power play and 7 of 9 on the penalty kill.
New Hampshire and Niagara conclude the two-game series Oct. 12 at 2 p.m. The Wildcats' next home game is Oct. 18 (2 p.m.) against St. Lawrence University. Tickets are available at the Whittemore Center Box Office or online at www.unhwildcats.com.