Saturday, November 22, 2008
PROVIDENCE SKATES TO 2-2 TIE WITH NIAGARA
Alyse Ruff nets game-tying goal for Friars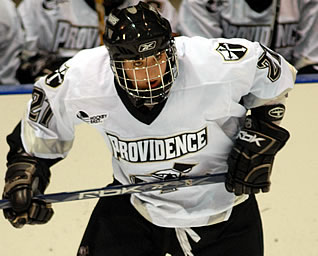 Alyse Ruff picked up the game-tying goal for PC
PROVIDENCE, R.I. - In a non-conference game held at Schneider Arena, Providence came back from two goals down with only 4:30 to play to earn a 2-2 draw with the Purple Eagles of Niagara University. The Friars saw goals from sophomore Alyse Ruff (Tualatin, Ore.) and senior Erin Normore (Cambridge, Ontario) while senior netminder Danielle Ciarletta (Blaine, Minn.) made 17 saves on the evening.
Providence had the better of the play in the first period as they outshot the Purple Eagles 12-5 but Niagara made the most of their best chance and took the lead with only 39 seconds remaining in regulation. Niagara forward Melanie Mills put home a rebound goal while on the power-play to go into the locker room ahead, 1-0.
Niagara would score their second of the game at 4:27 of the second period when Mary McKinnon put home a goal after passes from Jocey Kleiber and Frances McPhail. The Friars outshot the Purple Eagles 12-10 in the second stanza to hold the overall advantage in shots, 24-16, but headed into the locker room down, 2-0.
Providence came out in the third and continually pressured the Purple Eagles, looking to get on the board. It looked as though PC would be denied but at 14:43, the Friars earned a power-play and PC would make good on the man-advantage. At 15:32, Jackie Duncan (Kitchener, Ontario) sent a pass to senior Katy Beach (Cleveland, Ohio) who sent the puck through the slot to a streaking Erin Normore). Normore lifted the puck over the left shoulder of the Niagara netminder to shorten the deficit to 2-1. The goal was her fourth of the season. The Friar power play would strike again at 18:17 when Laura Veharanta (La Verne, Calif.) put the puck on frame causing a rebound that Ruff pounced on to even the score at 2-2. The goal was Ruff's sixth goal of the season.
The Friars outshot Niagara, 5-0, in the overtime period but were unable to net the game winner. Providence now stands at 6-6-2 while Niagara becomes 3-9-2. Ciarletta denied 17 shots while Niagara netminder Jenni Bauer was excellent in net, stopping 39 shots.
Providence is next in action on Saturday, November 29, when they travel across town to face-off against Brown in the 14th annual Mayor's Cup. The game will be played at Meehan Auditorium in Providence, R.I. beginning at 7:30 p.m.