Northeastern Defeats Niagara, 4-1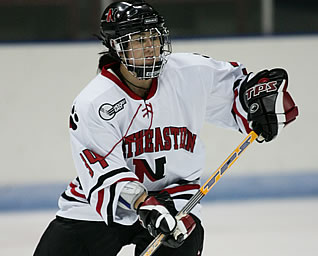 Kristi Kehoe had a goal and two assists for the Huskies.
Boston, MASS. - Northeastern extended its winning streak to three games, and improved to 10-8-2 with a 4-1 win over Niagara Sunday at Matthews Arena.
After taking the first game of a back-to-back series 3-2 in overtime, Northeastern was put on the defensive early on, when the Niagara penalty kill sprung an attacker into NU territory on a breakaway. Leah Sulyma made a great save to keep the game knotted at zero. Lindsay Berman got the Huskies on the board midway through the period when she got a hold of a puck in traffic in front of the net, and beat Niagara goalie Jenni Bauer.
Lori Antflick almost doubled the Huskies lead a few minutes later, when she took a good feed right in front of the crease, but Bauer made a good play with the glove to rob Antflick of a goal. Niagara evened things up late in the period when Jennifer MacLean got a hold of the rebound from a hard shot by Jacqueline Spring, and potted her third goal of the season.
After the first intermission, all the scoring belonged to Northeastern. Kristi Kehoe notched her team-leading 13th goal of the season to put the Huskies in front. Ali Bielawski fired a wrist shot on goal, and Kehoe wrestled her way free of a Niagara defenseman to get a stick on the rebound and put away the loose puck.
Kehoe created the Huskies' next goal as well, carrying the puck down low on the right side, then sliding a pass across the crease to a waiting Missy Elumba, who put away a one-timer for her first goal of the season.
ALi Bielawski put the game away late in the third period. Kasey Cedorchuk caught Niagara making a line change, and fired a quick pass to Bielawski at the blue line, who carried the puck in on goal, and beat Bauer with a wrist shot to the top-right corner. In addition to the goal, Bielawski also tallied two assists for a career-high three points. Kristi Kehoe also finished with three points on a 1-2-3 scoring line. It was the third three-point game of Kehoe's career.
Northeastern resumes conference play Jan. 15 when it hosts Boston College.