Saturday, January 10, 2009
Northeastern Tops Niagara, 3-2 in OT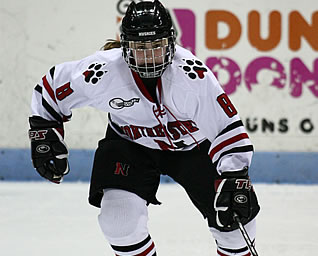 Alyssa Wohlfeiler scored the game-winner for the Huskies.
Boston, MASS. - Northeastern climbed back above .500 with a 3-2 overtime win over Niagara Saturday night at Matthews Arena. The Huskies are now 9-8-2, 5-4-0 HEA.
Niagara had the first quality opportunity to score when Ginny Berg was called for covering up the puck inside the crease. Niagara was awarded a penalty shot, and Niagara's Mary McKinnon seemed to have scored, but it was ruled no goal. A few minutes later, Annie Higan scored for the Huskies from down low, after two quickc passes from Lori Antflick and Katy Applin found her open on the weak side.
Leah Sulyma did good work in net to keep the Huskies in front early in the second period, making two saves from point-blank range at the 15-minute mark. She was tested again when a Northeastern turnover in the offensive zone led to a breakaway for Niagara. The Purple Eagles' Melanie Mills carried the puck strong to the net, deked, and put a backhand on goal, but Sulyma slid across and made the save with her right pad. Kristi Kehoe rewarded Sulyma's play minutes later, when she took a pass from Ali Bielawski and beat Niagara goalie Nikki Rudy to extend Northeastern's lead to two. Niagara got back in the game early in the third period when Autumn Stuntz potted her fourth goal of the season from right in front of the net. Northeastern had a number of power play opportunities in the third period, but could not extend their lead. Niagara capitalized late in the period, when Frances McPhail got a hold of the rebound from a McKinnon shot, and put the puck away to tie the game.
Northeastern dominated the early portion of the overtime period, with Kristi Kehoe firing two good shots on net, forcing Rudy to make the save each time. Soon after, Katy Applin collected the puck in the defensive zone, and fired a pass that found Ali Bielawski behind the defense. Bielawski drew the hard-charging Niagara defensemen, then sent the puck to Alyssa Wohlfeiler in the slot, who deked left, and beat Rudy with a backhand shot to give the Huskies the win.
After a 2-0 win over Boston University Jan. 8, the Huskies have strung together consecutive wins for the third time this season. They take on Niagara again Sunday at 3 p.m., before resuming Hockey East play Jan. 14.