Catamounts Fall To Mercyhurst, 8-1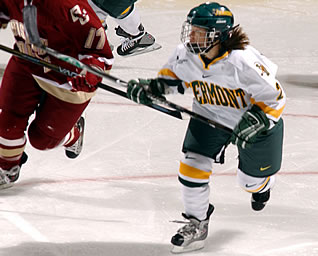 Molly Morrison scored for Vermont.
ERIE, Pa. - Jess Jones scored twice in a four-goal first period to lift fourth- ranked Mercyhurst to an 8-1 victory over Vermont in women's college hockey Sunday afternoon at the Mercyhurst Ice Center. The game was the final non-league affair of the season for the Catamounts who jump back into Hockey East play next weekend at Providence.
The high-flying Lakers (14-4-0) completed the weekend sweep over the Catamounts (4-17-1) with their 11th straight victory. In addition to Jones, who also had two assists, All- American Megan Agosta had a goal and set up four others including three in the first stanza.
Vicki Bendus and Valerie Choinard also tallied in the first period while Ashley Cockrell scored in the second to build a 5-0 lead.
Mercyhurst made it 6-0 as Agosta and Jones set up Meghan Corbett at 4:35 of the third before sophomore Molly Morrison (South Burlington, Vt.) put the Catamounts on the board at 9:19. From the slot, Morrison redirected a drive from freshman Erin Barley- Maloney (Raleigh, N.C.) for her third of the season. Senior tri-captain Brittany Nelson (Shelburne, Vt.) also picked up an assist on the power play goal. Barley-Maloney, who scored her team- high sixth goal Saturday, now ranks second on the Cats with 12 points.
Hayley McMeekin and Agosta added a pair of final goals for the Lakers in the game's last three minutes.
Vermont went 1-for-9 with an extra skater to snap an 0-for- 25 and six-game drought without a power play marker. Despite the dry spell, UVM now has 16 power play goals in its 22 games, one more than a year ago in all 34 contests. The Lakers scored once in their four opportunities.
Mercyhurst had a 30-12 advantage in shots for the game including 20-4 in the first 40 minutes. Junior netminder Kristen Olychuck (Kelowna, B.C.) made 22 stops for UVM. Hillary Pattenden made 11 saves to pick up the win for the Lakers.
The Catamounts are at Hockey East rival Providence next Saturday and Sunday, with a 2 p.m. faceoff each day at PC's Schneider Arena. Vermont then returns home to host Boston College on Saturday and Sunday, January 24-25 at Gutterson Fieldhouse. Admission is free for all UVM students (with a valid ID) and Rally's Round Up members for all regular season home games. For ticket information please call 1-866-4-CAT-TIX or log on to www.UVMathletics.com.