Saturday, January 10, 2009
CATAMOUNTS DOWNED BY MERCYHURST, 8-1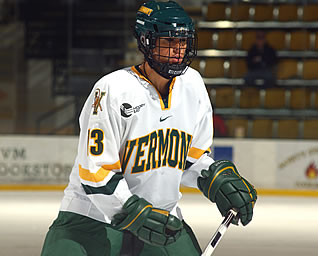 Teddy Fortin assisted on the Vermont tally
ERIE, Pa. -- Jesse Scanzano scored three times to power fourth-ranked Mercyhurst to a 8-1 victory over Vermont in women's college hockey Saturday afternoon at the Mercyhurst Ice Center. The Lakers ran off six unanswered goals after UVM freshman Erin Barley-Maloney (Raleigh, N.C.) made it a 2-1 contest with 1:07 left in the first period.
"We skated with good energy and overall our effort was also good," said Vermont coach Tim Bothwell. "We just turned the puck over too many times. You can't do that against a good team like Mercyhurst and the game got out of hand. I feel confident that if we come out and play hard for 60 minutes Sunday, we are capable of doing some damage."
The Catamounts (4-16-1) were playing their sixth game this season against a nationally ranked opponent and could not hold down the NCAA's fourth-best offense as Mercyhurst (13-4-0) skated to its 10th straight win.
Scanzano and Johanna Malstrom opened the scoring for the Lakers early in the first before Barley-Maloney's goal at 18:53. Teddy Fortin (Brunswick, Maine) and Hannah Westbrook (Laramie, Wyoming) picked up the assists on the rookie's team-high sixth of the season.
Goals by Valerie Choinard, Bailey Bram and Scarzano in the second broke it open for defending College Hockey America champions. In the final period, Megan Agosta and Steadman found the net and Scanzano completed her hat trick at 11:31.
Mercyhurst outshot Vermont, 30-15 and it scored three times in seven power play opportunities while killing all six UVM chances. Senior goalie Ashley Walenty (Lake Placid, N.Y.) made 22 stops for the Cats while Hillary Pattenden had 14 saves in the other crease.
In their final non-league game of the season, the Catamounts wrap up the series with the Lakers Sunday at 1 p.m. UVM returns to Hockey East action next weekend with a pair of games at Providence before returning home to host Boston College on January 25. Admission is free for all UVM students (with a valid ID) and Rally's Round Up members for all regular season home games. For ticket information please call 1-866-4-CAT-TIX or log on to www.UVMathletics.com.