Friday, November 21, 2008
PROVIDENCE FALLS TO MERCYHURST, 3-0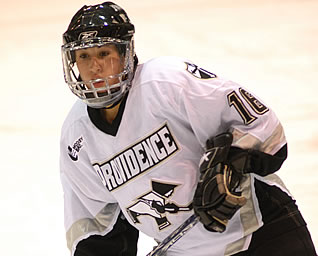 Katy Beach
Providence, R.I. (November 21, 2008) - Despite a 51 save performance by freshman Genevieve Lacasse (Scarborough, Ontario), the Providence College women's ice hockey team lost to #10 Mercyhurst, 3-0, in a non-conference game at Schneider Arena. Laker junior Meghan Agosta registered two goals and an assist to lead Mercyhurst. With the loss, the Friars fell to 6-6-1 while Mercyhurst improves to 7-4.
The two teams played a scoreless first period with Mercyhurst outshooting the Friars, 12-7. PC was unable to score on a minute long five-on-three advantage at 15:16 and the two teams went into the locker room tied at 0-0.
Mercyhurst would do the bulk of their damage in the second stanza. At 2:56, Agosta received a pass at the blue line and fired a shot through the five hole of Lacasse to go up, 1-0. Meillisa Lacroix and Jess Jones earned assists on the play. The Lakers continued to pressure PC throughout the period, outshooting the Friars 25-9 in the second stanza alone. The Friars' best chance came 1:20 into the second period when freshman Kate Bacon (Chanhassen, Minn.) deked the goalie only to have her backhanded attempt denied by the outstretched pad of Laker netminder Hillary Pattenden.
It looked as though Providence would escape the second period down just 1-0 but the Lakers earned a power-play at 18:47 and capitalized to go up, 2-0. With only 48 seconds remaining in the period, Vicki Bendus stationed herself on the left side of the net and put home the goal following passes from Agosta and Hayley McMeekin.
At the end of two periods, Mercyhurst held a commanding edge in shots, 37-16.
Agosta would net her second of the game at 7:11 of the final period to go up for good, 3-0. Lacasse finished the game with a career-high 51 saves but falls to 5-4 on the season while Pattenden denied 23 Friar shuts to earn the shutout to improve to 7-1.
Providence will look to rebound as they welcome CHA foe Niagara University to Schneider Arena on Saturday, November 22. The puck drops at 7:00 p.m.