Tuesday, November 25, 2008
CATAMOUNTS TOP BLACK BEARS IN SHOOUTOUT
Game finishes in 2-2 tie before shootout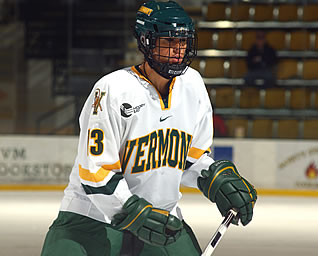 Vermont's Teddy Fortin scored the decisive goal in the shootout
Lewiston, Maine - The University of Maine women's ice hockey played to a tie against Vermont 2-2 in the Black Bears home game in the Androscoggin Bank Colisee in Lewiston, Maine. Vermont earned an extra point in Hockey East as it prevailed in a shootout. With the tie, Maine moves to 3-9-1 overall and 1-5-1 in Hockey East. The Catamounts become 3-9-1 overall and 0-4-1 in conference play. The Black Bears were led by Taryn Peacock (Calgary, Alberta) who scored two goals.
Maine got off to a fast start as Peacock scored only 3:38 into the first period off of passes from Vanessa Vani (St. Catharines, Ontario) and Amy Stech (Duluth, Minn.). Peacock was only just beginning as she connected on another Stech pass amid a flurry in front of the net for her second goal of the game just under three minutes later.
Vermont got back into the game in the second period when Peggy Wakeham (Bay Roberts, Newfoundland) fired a shot that goaltender Genevieve Turgeon (Lac Beauport) was able to stop, but unable to secure. The puck squirted out in front of the net as Turgeon rose to grasp it and Chelsea Furlani (Colchester, Vt.) was able to knock it through, making it 2-1. The Catamounts tied it up 7:13 into the third period on a Wakeham powerplay goal from Chelsea Rapin (Walled Lake, Mich.) and Molly Morrison (So. Burlington, Vt.).
In the shootout the Black Bears fell behind in the second round, but Myriam Croussette (Baie-Comeau, Quebec) evened it up with a deke to the left that pulled the goalie off balance. In the fourth round Maine got behind again before Jennie Gallo kept the Black Bears alive once more with some fancy puck-work that found the back of the net. However, in the fifth round Jessica Bond (Namur, Quebec) was unable to keep it going after Vermont's Teddy Fortin (Brunswick, Maine) scored.
Turgeon stopped 31 shots as she moved to 2-9-1 on the season. Maine outshot the Catamount 34-33.
The Black Bears will continue their road trip as they head to Pennsylvania to take on Robert Morris University on Friday, starting at 2:05 p.m.