Sunday, February 22, 2009
MAINE EARNS SHOOTOUT WIN AT VERMONT
Genevieve Turgeon makes 47 saves in game for Black Bears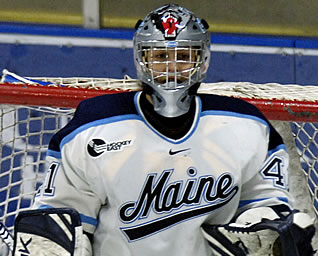 Genevieve Turgeon made 47 saves for the Black Bears
BURLINGTON, Vt. -- Senior Sarah Smiddy (Grand Rapids, Mich.) scored the tying goal late in the second period as Vermont and Maine battled to a 2-2 overtime tie before the Black Bears nipped UVM, 2-1, in a shootout in women's Hockey East action Sunday afternoon at Gutterson Fieldhouse. Goalie Genevieve Turgeon made 26 saves in the third period to force overtime, had three more in the five-minute extra session and then stopped three Catamounts in four shootout rounds where Maine topped UVM, 2-1, to earn an extra point in the league standings.
The game was the season finale for both teams. The Catamounts went 2-1-1 in their last four games to wrap up the 2008-09 campaign with a 7-25-2 overall record and a 5-15-1 mark in Hockey East play. Vermont finished out of the cellar for the second straight year and its five Hockey East wins and nine points are the most for the program in its fourth year in the league.
"Today was a bit of a tough way to end the year," said Vermont coach Tim Bothwell. "We threw everything but the kitchen sink at them in the third period but couldn't find a way to score. Turgeon was outstanding- you can't get much better goaltending than what she gave her team in the third period."
It was the second shootout for the Catamounts in the first season it has been used to settle overtime ties in Hockey East. Both times it was needed against Maine as the two teams tied 2-2 on Nov. 25 in Lewiston, Maine before Vermont won the shootout round, 3-2.
In the shootout, Teddy Fortin (Brunswick, Maine) and Myriam Croussette scored in the first three rounds and after Turgeon stopped Celeste Doucet (Memramcook, New Brunswick) in UVM's half of the fourth round, Maine's Jennie Gallo beat Cats goalie Ashley Walenty (Lake Placid, N,Y.) to end it.
One of four UVM seniors playing their final game Sunday, Smiddy tied the contest with 37 seconds left in the third period poking in a rebound of her own shot. Hannah Westbrook (Laramie, Wyoming) and Fortin assisted on Smiddy's third goal of the season and 13th of her career. Vermont swarmed all over Maine in the third with its 26 shots, 14 of which came on three power play opportunities. In overtime, Shannon Bellefeiulle (Kanata, Ontario) had Vermont's best chance to win it with 25 seconds left with a drive from the left face off circle that Turgeon turned aside.
UVM's Brittany Nelson (Shelburne, Vt.) opened the scoring with her fifth of the season at 4:35 of the first. Peggy Wakeham (Bay Roberts, Newfoundland) carried the puck from her own end and her shot from the left side deflected off Nelson in front and past Turgeon. The Black Bears evened the score just less than three minutes later as Vanessa Vani scored the first of her two goals on the day rapping home a rebound of a Croussette shot.
Vani made it 2-1 midway through the second finishing feeds from Croussette and Gallo before Smiddy would tie it just before the intermission.
In addition to Smiddy, it was the final collegiate game for Walenty, Jessica Murphy (Shoreview, Minn,) and Danielle Ramirez (Huntington Beach, Calif.).
"I'm very happy for all of our seniors and all four made positive contributions today," added Bothwell. "We are going to miss each of them and I wish them the best in all their future endeavors."
Walenty finished with 22 saves and Turgeon ended with 47 as Vermont finished with a whopping 49-24 advantage in shots. UVM was 0-for-6 on the power play and killed all five Maine attempts. The Black Bears end their season at 5-23-5 overall and 4-15-2 in Hockey East.
Wakeham, a sophomore defenseman, had seven points (2-5--7) in the last four games to finish the season with a team-high 22 points on six goals and 16 assists, second-most in program history. Her 22 points are a new UVM single-season record for a blueliner with 16 coming against Hockey East foes games to rank third among the league's defensemen.