Saturday, December 13, 2008
MAINE SKATES TO 2-2 TIE WITH UNION
Lexie Hoffmeyer and Dawn Sullivan each score for Maine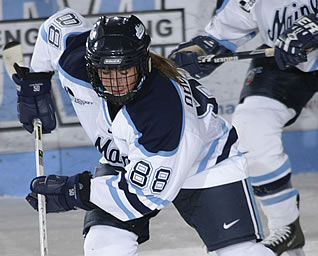 Jenna Ouellette notched an assist for Maine
Orono, Maine - The University of Maine women's ice hockey team battled to a 2-2 tie with visiting Union College in its final game of 2008. The Black Bears move to 4-13-2 overall with the tie and the Dutchwomen are now 2-16-2 on the season. Maine was led by Dawn Sullivan (Enfield, Nova Scotia) and Lexie Hoffmeyer (Grand Blanc, Mich.) who each netted a goal.
After a scoreless first period that saw a combined seven total shots on goal, the Black Bears struck 2:54 into the second period. After repelling a Maine attack, Hoffmeyer grabbed an ill-fated attempt to clear the puck. Hoffmeyer launched a shot near the middle of the blue line that found a path through traffic and into the net, it was her fourth goal of the season.
The Black Bears scored again only 54 seconds into the third period when Jenna Ouellette (Winnipeg, Manitoba) skated into the Dutchwomen zone and got pinned behind the net. Ouellette spotted Sullivan in front of the goal for the quick one-timer, it marked her third score of the season.
After climbing back into the game with a score 13:35 into third period, Maine looked to have the game sealed up as time was winding down. The Dutchwomen pulled goaltender Lundy Day with just over a minute remaining and launched a barrage of shots at Candice Currier (Goffstown, N.H.). With only five seconds left freshman Emilie Arseneault skated behind the net and delivered a pass to defensemen Jackie Koetteritz for a one-timer that squeaked by Currier to tie the game. The two teams played even in overtime to preserve the tie.
Currier saved 29 shots as she moved to 1-1-1 on the season. Day made only 12 saves for Union as she became 2-16-2 overall. The Black Bears were out shot 31-14.
Maine will take a holiday break for close to four weeks before traveling to Clarkson for a two-game series starting on Friday, Jan. 9, at 3 p.m.