Saturday, October 18, 2008
MAINE STORMS PAST SACRED HEART, 11-1
Jennie Gallo posts three goals and two assists for Black Bears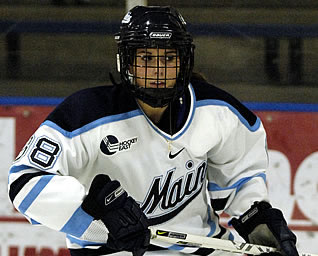 Jenna Ouellette had a goal and two assists for Maine
Orono, Maine - The University of Maine women's ice hockey team got a 11-1 win over Sacred Heart on Saturday afternoon. The Black Bears improve to 2-4-0 on the season while Sacred Heart falls to 1-2-0. Maine was led by Jennie Gallo (Castlegar, B.C.) with three goals and two assists.
After losing 3-2 the previous night the Black Bears responded with intensity, scoring only 3:43 into the first period on Melissa Gagnon's (St. Gilles, Quebec) first career goal from Vanessa Vani (St. Catharines, Ont.) and Elyce Thomas (Port Coquitlam, B.C.). Maine scored four more unanswered goals before the Pioneers found the net in the second. The Black Bears scored three in the first, five in the second and three in the third period as they never looked back en route to victory.
It was a game of firsts for Maine. Gagnon, Myriam Croussette (Baie-Comeau, Quebec), Dominique Goutsis (Coquitlam, B.C.) and Dawn Sullivan (Enfield, N.S.) each scored their first goal. In addition, Vani had two assists, moving her into sole possession of second place on Maine's all-time career assists list with 48.
Candice Currier (Goffstown, N.H.) received her first career start in goal and responded with 13 saves and a win.
The Black Bears take to the road for their next two games, hitting the ice at Boston University on Saturday, October 25, at 3 pm. Then traveling to Providence College to play the Friars on Sunday, October 26, at 2 pm. These two contests will be crucial as they mark Maine's first Hockey East match ups of the season.