SACRED HEART UPENDS MAINE, 3-2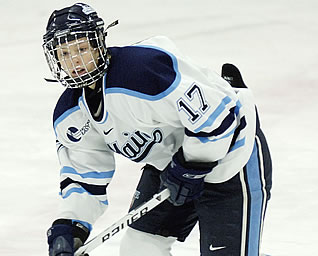 Abby Barton scored a goal for the Black Bears
Orono, Maine - The University of Maine women's ice hockey team fell 3-2 to Sacred Heart on Friday night. The Black Bears slide to 1-4-0 with the loss and the Pioneers improve to 1-1-0. Maine was led by Lexie Hoffmeyer (Grand Blanc, Mich.) who scored her third goal of the season.
Maine fired first, scoring nine minutes into the first period on a Hoffmeyer power play goal from Dominique Goutsis (Coquitlam, B.C.) and Vanessa Vani (St. Catharines, Ontario). Stony Brook evened it up when Kate Dunlop (Flesherton, Ontario) found the back of the net only four minutes later. The Black Bears took the lead once again on a Abby Barton (Woodstock, N.B.) score from Amy Stech (Duluth, Minn.) and Dawn Sullivan (Enfield, N.S.) early in the second period, Barton's first of the season. The Pioneers responded by scoring at the end of the second period and early in the third. Maine was presented with several opportunities, but were unable to finish as they fell in the hard fought contest.
Goutsis and Sullivan each recorded their first career point. Vani now has 45 career assists and is only one away from moving into a tie for third place on the Black Bears' all-time assist list.
Genevieve Turgeon (Lac Beauport, Quebec) saved 19 shots as she dropped to 1-4-0 on the season.
Maine will take on Sacred Heart University once again at Alfond arena tomorrow afternoon, October 18, at 2 pm.