Saturday, November 29, 2008
MAINE EDGED BY ROBERT MORRIS, 5-4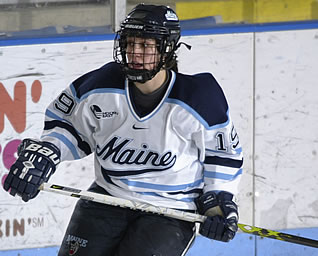 Vanessa Vani notched an assist for the Black Bears
PITTSBURGH, Pa. -- The University of Maine women's ice hockey team fell to Robert Morris 5-4 on Saturday afternoon in Pittsburgh, Pa. The Black Bears fall to 3-11-1 on the season with the loss, while Robert Morris improves to 7-8-1 on the campaign.
Maine jumped out to a 1-0 lead just 4:15 into the first period on a power play goal by Jenna Ouellette (Winnipeg, Manitoba). Jordan Colliton (Blackie, Alberta) and Lexie Hoffmeyer (Grand Blanc, Mich.) each assisted on the sixth goal of the season for Ouellette. Maine extended its lead to 2-0 with an unassisted goal by Dawn Sullivan (Enfield, Nova Scotia) at 10:52 of the first. For Sullivan, it was her second goal of the season. Robert Morris cut the lead to 2-1 less than a minute later when Sara O'Malley scored from Brianna Delaney at 11:29. The Black Bears took the 2-1 lead into the first intermission.
Whitney Pappas tied the game for Robert Morris at 10:06 of the second period. Maine regained the lead at 12:51 when Elyce Thomas (Port Coquitlam, British Columbia) scored an unassisted goal. For Thomas, it was her first goal of the season. Once again, Robert Morris would tie the game on a goal by O'Malley at 14:20.
Maine took 4-3 lead just 21 second into the third period when Jennie Gallo (Gastlegar, British Columbia) scored her team-leading seventh goal of the season from Vanessa Vani (St. Catharines, Ontario). For Vani, it was her team-leading 13th assist.
The Colonials tie the game yet again when Pappas scored her second of the game from Kristen Miles and Delaney. Robert Morris got the gamer-winner on the power play at 11:41 from Megan Picinic. Kathryn Stack and Mallory Giambra each assisted on the game-winning goal.
Maine held a slim 31-28 edge in shots in the game. The Black Bears were 1-for-4 on the power play, while Robert Morris was 1-for-2.
Maine rookie goalie Candice Currier (Goffstown, N.H.) made 23 saves in goal for the Black Bears. She falls to 1-1-0 on the season. Daneca Butterfield made 27 saves in goal for Robert Morris. She improves to 1-2-0 on the season.
Maine returns to action on Friday, Dec. 6 when it hosts Providence at 7 p.m. at Alfond Arena.