Friday, November 28, 2008
MAINE FALLS TO ROBERT MORRIS, 4-2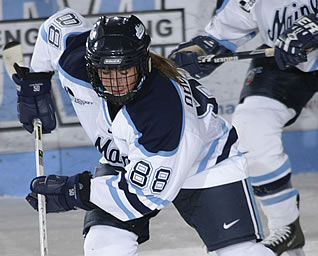 Jenna Ouellette scored Maine's first goal
MOON TOWNSHIP, Pa. -- The University of Maine women's ice hockey team fell to Robert Morris 4-2 on Friday afternoon in Moon Township, Pa. The Black Bears fall to 3-10-1 on the season, while Robert Morris improved to 6-8-1.
RMU opened the scoring on a goal by Jacki Gibson 9:17 into the first period. Mallory Giambra assisted on the third goal of the season by Gibson. The Colonials took a 2-0 lead on a power play goal by Chelsea Walkland at 8:14 of the second frame. Kylie Rossler and Megan Picinic each assisted on the goal.
Maine got on the board with a power play goal by Jenna Ouellette (Winnipeg, Manitoba) at 13:02 of the second. For Ouellette, it was her fifth goal of the season. Taryn Peacock (Calgary, Alberta) and Lexie Hoffmeyer (Grand Blanc, Mich.) each assisted on the goal by Ouellette. Robert Morris took the 2-1 lead into the second intermission.
The Colonials regained their two-goal lead just 3:08 into the third period when Jordan Riley scored an unassisted goal. Brianna Delaney made it 4-1 at 7:36 of the third period.
Maine pulled to within two goals when Myriam Croussette (Baie-Comeau, Quebec) scored her second goal of the season. Jennie Gallo (Castlegar, British Columbia) and Vanessa Vani (St. Catharines, Ontario) each assisted on the goal.
Maine held a 42-23 edge in shots in the game. Maine goalie Genevieve Turgeon (Lac Beauport, Quebec) made 14 saves. She falls to 2-10-1. Candice Currier (Goffstown, N.H.) made five saves in 11:48. Brianne McLaughlin made 40 saves for the Colonials.
Maine and Robert Morris conclude their two-game series on Saturday, Nov. 29 at 2:05 p.m. in Moon Township, Pa.